Kitchen/dining/living/laundry flow struggles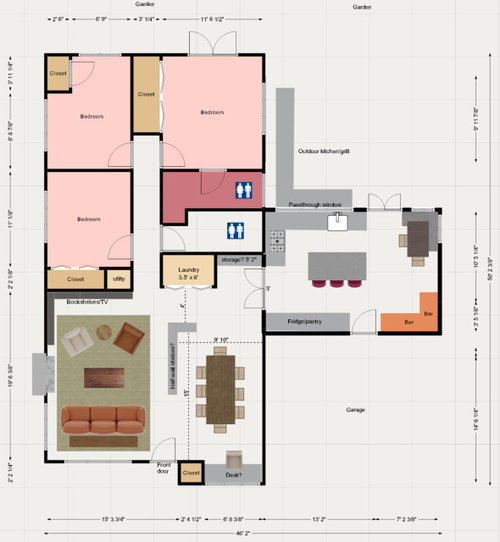 We want to move our kitchen to the back of the house, and I'm trying to restructure our kitchen/dining/living room flow.

My main question: I'm struggling with the very center of the flow — in the mockup, it's the section around the proposed laundry, between the dining room and the first bathroom wall. Maybe what I have works? But it seems to block the flow to the kitchen a bit? Do you see another option entirely, or tweaks you'd make?

I initially considered putting the laundry in the kitchen, but ultimately that felt like too much going on in there — and it's a tradeoff with having the breakfast nook, more cabinetry, or a bar/coffee area...

Here are the relevant ways that the mockup already differs from the existing layout:
- Moves the kitchen to the back room.
- Creates a dining room at the front of the house where the kitchen used to be.
- Creates a laundry closet inside the house (and out of the garage!).
- Removes a wall between the proposed living room and dining room (i.e., the current kitchen). In its place, at minimum we'd do a post or two for structure, but we'd actually like some more visual separation around the dining room... perhaps half-up bookshelves, arches, a partial slat wall, or even mostly-glass walls with french doors...
- Moves the garage door from the new/proposed dining room wall to the new/proposed kitchen.

I hope I provided enough measurements for the problem area, but please let me know if you need any more! Thank you for any and all thoughts!