DD Is A Sushi Nanny
DD graduated from college this June with double degrees, BA Journalism and BFA Fine Art. But the world is upside down for lots of new grads, and many others besides, so she didn't have a job. So she moved home to figure things out.

Then an ad showed up: two families with two girls starting first grade in a local French immersion private school that is going online for the school year, seeking French-fluent nanny/teaching assistant.

Well, that's right up her alley. She was in French immersion school from Kindergarten, lived in France for a year, has a French government certificate of fluency (there is such a thing, the test is very hard), also worked all those summers at the camp, and plans to go back to France after Covid . . .

She now has a full time job for the school year that pays well considering that she's living at home, and we have a use for all the kids' French books that we've accumulated. Everything from Super Piscou Geant and Manuel des Castors Juniors from my childhood to the J'Aime Lires, Tintin, Asterix, and Calvin & Hobbes in French from her childhood.

Err, where is the food content, you ask?

DD has decided to do fun little cooking projects with her kids. Today she took them to the Asian market, set up stations while they were in morning Zoom class, and had them make veggie sushi rolls.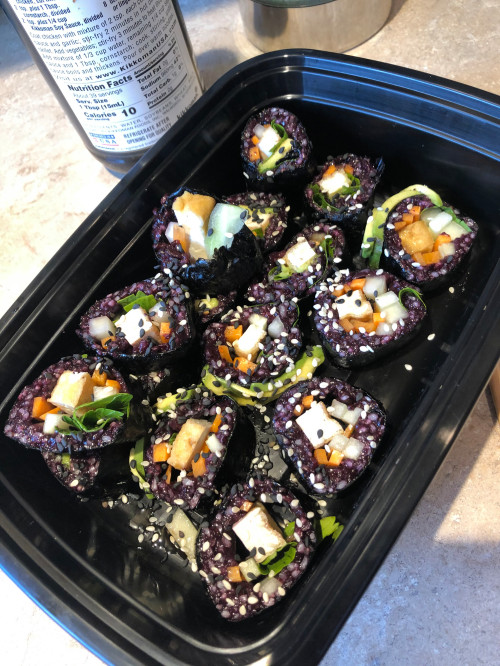 Each kid watched a short video on sushi and Japanese sushi culture, then made a couple trays of rolls to bring home for their families' dinner. They loved it (the kids - no report yet from dinner.) These are black sweet rice, baton of veg, nori, and sesame seed.

The next cooking project is going to be veggie shao mai. (Veggie because fewer food safety issues.) Then she's going to show them how to make croissants, to work in some French content. Her time baking in France is coming in handy.