Sacrifices at the altar of the County Fair Judges
This year I couldn't get anyone to play with me. Makayla has been working to earn money for a car, Bud did make a Lego truck, but didn't want to cook. Madi and Maci have been camping and no one had time for County Fair baking. (sigh)

I did round up some canned goods, things like Readinglady's Old Fashioned Pear Preserves with Vanilla Beans, some pickled asparagus, Chase's "Elaine's Chile Sauce". Bok choi and garlic from the gardens, but it just seemed.....wrong....to not bake something.

I finally settled on a Caramel Honey Nut tart, something I don't bake for family functions because Amanda can't have nuts and it doesn't have any chocolate and the kids want cake and, well....you know. So I chopped nuts and dragged out heavy cream and made caramel and a butter pastry and got this: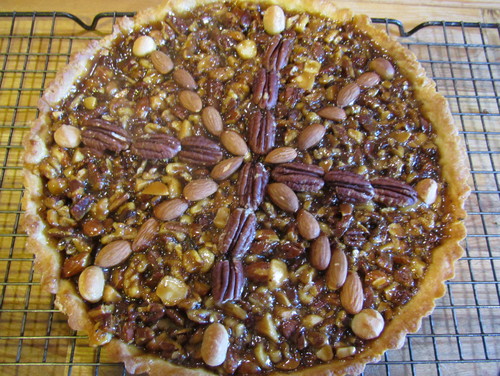 I'll go in tomorrow to check and see if any of my entries placed. I did make Elery a small crostada with the rest of the crust and cherries from the farm, which he shared with the Grandkids so we weren't tempted to eat too much of it.

He's still sad about that tart, though, LOL.

Annie