Tres Leches....milk, milk and more milk
One way to get exactly the kind of birthday cake you want is to make your own. As I posted on my birthday thread, I made a tres leches cake. I found Alton Brown's recipe because I like Alton Brown, but his was all in weight and I just don't have the patience for that, plus it called for cake flour which I don't have any of at this time. Not wanting to make a trip to the store, I kept looking.

I eventually found a recipe on "All Recipes" that contained the ingredients I had on hand and got great reviews. It made a 9x13 cake, enough for everyone. Encouraged, I "got to baking".

Since I made it 3 days ago and it's all gone, I guess it was well received. I didn't spend time decorating, and I think the whipped cream topping would not last well during long storage. I thought it was soggy. Not terrible I-can't-eat-this soggy, but definitely too much milk mixture poured over it. The recipe called for 2 cups of milk and one can each of sweetened condensed milk and evaporated milk, I'd cut that milk down to 1 cup, I think.

Thanks to a tip from Sol years ago, I made a can of dulce de leche and decided to gild the lily, so I poked the cake, poured the milk over, added a layer of dulce de leche then topped it with the whipped cream.

This was Mother's piece, it was in a bowl because we were going to add a scoop of raspberry sorbet, but she decided she just wanted cake: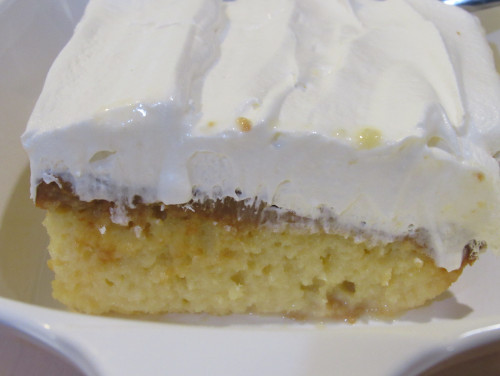 I made homemade dark chocolate espresso ice cream and that raspberry sorbet with berries that I picked last year and froze. Both went nicely with the cake.

I'd definitely make this cake again, although I'd cut down on the milk, as I mentioned. And, of course, it all got eaten, somehow. I especially liked the layer of dulce de leche, although that's probably not "authentic". I like it a lot, though, and since I was baking, I got to decide. It was a good decision, I think.

Annie