Bathroom facelift help please!
We are giving a facelift to the master bedroom and bath. We chose SW Brittany Blue for the bedroom, with BM white dove trim.
The bedroom opens into the vanity area of the bath. I hired a decorator for a day, and she suggested SW Swanky Gray for the MBA walls and Plum Brown for the cabinets. I'm not so sure about the purple-y thing going on with that, and I know DH isn't happy with it either. I am running out of money for paint samples as I tried so many in the bedroom already. I did like Pewter Gray, but DH didn't want it in the bedroom. I'm worried this Swanky Gray will read dark and too purple in the bath, but it might actually surprise me and be quite elegant. Read on about the cabinet problem please, since I need an elegant look to match the bedroom.
The bedroom has lots of mahogany furniture, including a gorgeous rice bed. We've chosen a cultured marble that's white on white with gray veining for the bath vanity, and the floor tile is a nice gray with a tiny bit of white and honey veining, but reads as gray. It's already there, and I'm not replacing it as it is very nice.
This is a budget remodel and the fugly cabinets have to stay.
Perhaps I should just paint them black, and do a gray on the walls?
Question one: Any other color ideas?
Here are the cabinets. I managed to replace them in the kitchen remodel. As you can see they are very country in style. Fine for the LR built in, because we have a western theme sort of in there, and I'll be painting that and adding some granite or marble on top. But these cabinets in the bath really don't match with the bedroom at all.
So question two: What would you do to lessen the impact of this style in an area where it really won't fit in?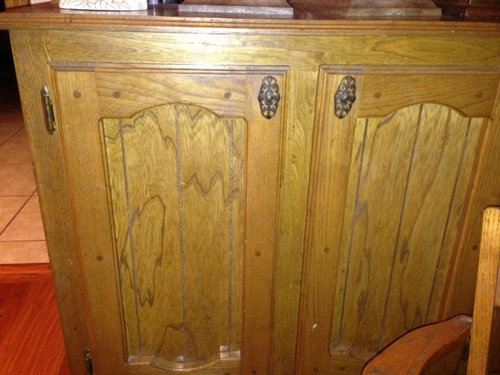 This post was edited by southernstitcher on Sun, Sep 1, 13 at 23:40