Bread Bored --> YUM! ETA: Mushrooms!
plllog
last modified:
3 months ago
For about half a year, I've had limited kitchen time, and that meant no baking because it's so easy to buy good baked items here. Then I bought some bread last week which was known to be good for sandwiches and toast. This time, it was a flavor sink. It's not that it had any kind of assertive flavor. It just white noise masked the sandwich flavors, and my perfectly toasted piece had no flavor at all for all the brown it had. No, not Covid. The sandwich fillings outside of the bread were very tasty indeed.
I also was running out of fridge space. Too many jars. I'd been saving the Pick-A-Peck spicy pickle jars because there was so much good in them, and I thought I might be able to incorporate them into bread. It was supposd to be soup and stew day, but early I thought about where I was going to put soup, and pulled the ADY jar to warm up a bit, as well as a couple jars of sourdough discard and a pickle jar. Also, I had noticed that the half jar of Juanita peppers had started to ferment (that is, the sugar in the brine) and they'd lost their extreme deliciousness, so I pulled them too.
This was total jungle bread! I was going for high hydration because the discard still had lots of liquid and I wanted to use the whole half jar of pickle juice. It was from spicy green bean pickles. I wanted to use all the good things too, though I removed most of the pepper seeds. It had one double garlic clove, one jalapeño, one habanero, one serrano, one small birdseye, +/- one Tbsp dill seeds. I chopped all the veg fairly small. I was worried there might not be enough, but it was fine. The Juanita peppers were chopped into a high fat butter. I thought that sweetness would be a good counterpoint to the pickle bread, but I just put it in a little container rather than fussing with butter molds.
So, back to the bread, I also added some water because I did a preferment with moderate gluten flour to give the ADY a chance to get established in case there was anything alive in the starter, and against the acidity of that and the brine. I weighed the discard, guessed at the hydration, and did sums. Weighed out some high gluten 00 flour, which I chose for the structure. Added some more ADY, weighed the brine, which counted as the salt, and mixed it all together. It looked about right. I left it all for an hour to get acquainted, before giving it a good knead. I'd thought to just do stretch and folds, but my hands told me it needed more, and that it needed more flour. A lot more. I think the brine got absorbed better than water, or faster, because it was drippy sticky. It kneaded very well, and got beautifully well stretched, and elastic and was stiffening, but still really really sticky, so I kneaded in one more measure of flour, before setting it to rise.
Verrry slooowly. I mean, it was frankendough, so no surprise, but my kitchen is warm, and it took hours, like actual sourdough. The yeast had been cold, and a lot of that may have been it being too cool still to get puffy all that fast, but the brine probably also did retard it. It finally rose to a good double with a nice dome, but one touch and I knew it would never form. Just too soft and wet. The dough tasted good, though. Well, high hydration goes in a pot, right? So I got out my 4 qt. Staub cast iron early pandemic make bread at home promotion special, which Sleevendog had alerted us to (I had been using my pumpkin shaped Le Creuset for cast iron bread baking prior, but the Stab is best suited for the task)
The dough transferred fine, and deflated as it's supposed to, but it was still slow to rise again. Then after waiting and waiting, it was after midnight, and I had to make a choice. I had made notes on somewhat similar very high hydration doughs that only rose about half, and went with it. 415° F (pre-heated for over an hour) for 35 minute, then lowered to 375° F and uncovered for 15 minutes. It looked very blond, however, so I gave it a little extra time. It looked perfect when I took it out, but seemed a little dark of crust when I took it out and I went to bed hoping it wasn't overdone and dry, and needing more recipe work to perfect the idea.
Fear not! The crumb is a lot darker than I thought it would be and so is the crust. The texture and flavor of the crust is just right. The crumb is open and very elastic without being damp. And the flavor is everything I'd been missing! It is SO good!!! I ate too much. :) So good. The heat is kind of background, but still there, biting into a dill seed brings pickle memory, the brine brought the salt just right, and the little bits of pepper and garlic are delightful. Truly excellent with the compound pepper butter (too cold to spread n the picture, but nearly as good bumpy), and even better with ripe truffle cheese.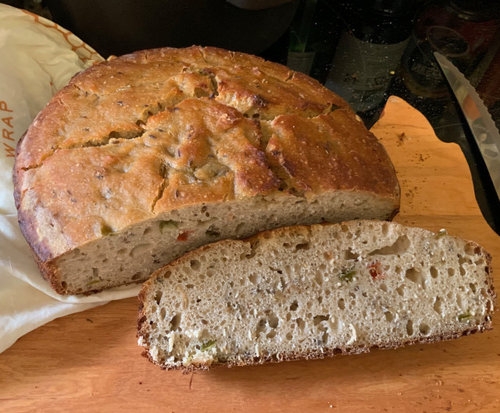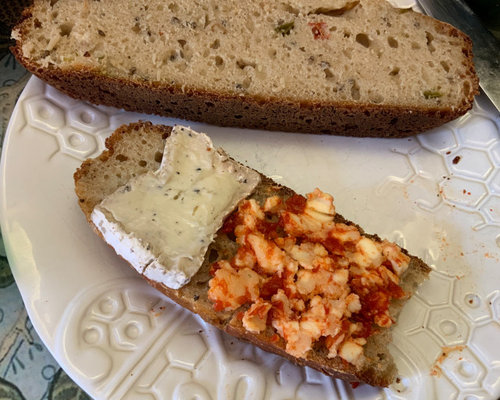 Loudon County Full-Service Design/Build Firm & Kitchen Remodeler