Did you get food related Christmas gifts?
I did get a new coffee cup from Ashley, she got one for Elery too. She said the kids picked them out, but I'm thinking this is more her style, LOL. Last year's gift was a t-shirt with Ball canning jars on the front that said "Grab your Balls, it's canning season". Yeah...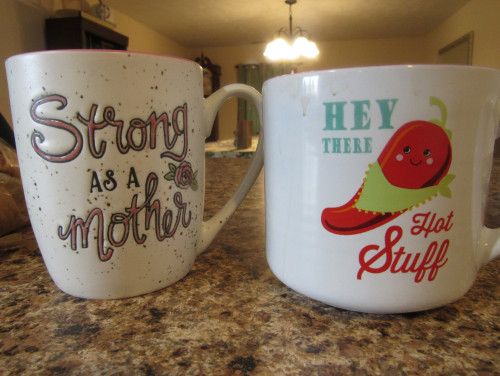 Elery's grandkids bought me a cookbook, which is a lovely thought, but probably not going to get regular use: "Fresh, Fast and Fabulous from Sam's Club". It has mostly 5 ingredients or less and uses things that can be purchased at Sam's Club, including frozen Tyson BBQ chicken wings, jarred pizza sauce and Velveeta. However, it also has several recipes for sauces and rubs, some of which look interesting, so I'll use it for experimenting with those.
My oldest daughter gave me the usual gift card to the local farm store, to be used in the spring for canning supplies and fence posts, so kind of cooking related because of those canning supplies. Other than that, my family usually doesn't buy me cooking or kitchen related items because I have so many things and so little storage, as well as very firm ideas about what I like and do not.
Did anyone else receive cooking related items or are their families intimidated, like mine? (grin)
Annie