Daily Bread
Do you make daily bread for your household? That's daily as opposed to for special occasions, and make as in most of the time rather than buying or having someone outside your home make it. I know Linda bakes daily, to share, but I've missed it if she's shared what kind of bread she bakes. I now have two go-to recipes I've developed for daily bread; one made with plenty of commercial yeast, the other sourdough.

I started making Daily bread when the stores stared cutting back on whole wheat and whole grain breads. At one point, I caught my own wild yeast in a whole wheat starter and learned to use it outside of a specific recipe, as well as making a number of different sourdough recipes, white, whole wheat and rye. I did a lot of experimentation, learned to mill my own flour, and developed a recipe and method that had the best flavor (with the ability to vary things so it wouldn't get boring), easiest make, and least cleanup water usage. The base recipe, though it could be made all wheat, was part whiole wheat, part whole rye and had other grains and seeds mixed in. Then I had to give up whole grains.

Before the pandemic, I was determined to get back to baking daily bread, so was trying to find methods for rustic white breads. Super high hydration "no knead" breads don't work for me. I've tried. So I tried the recipe for herb bread on the KA BF bag (King Arthur Bread Flour). The herb part was great, but the texture wasn't. I had heard about Central Milling's Artisan Craft flour and was going to buy some when I finished the KA.

Then the pandemic hit! NoFlour! No yeast! The piteous cries were worse than those for TP (I had several months' worth of TP, but not much reserve flour and my neglected yeast had died in the fridge). I found some excellent yeast online, which I shared with friends. And I bought both the CM Artisan Baker's Craft and Artisan Baker's Craft Plus to try, alomg with storage bins. (My experiments, as well as baking by other members were documented in the Fun With Flour threads.)

I was still working on recipes when I got the new flour. The CM AB'sC flour is organic unbleached flour with 11.5% protein, so it's similar to KA unbleached. It was designed specifically for commercial artisan breads. The plus means it's maled and I don't have to add malt, as I often used to do. The malted flour makes for fast rises, but it doesn't have the malt flavor my barley malt has, so I'll still be adding it to things like pizza (or bagels if I do make some), which need that maltiness.

That's the history. My new don't-bug-me, flavored bread incorporates lessons from that KA recipe. I've done all kinds of flavors. Just add a minimum of a couple teaspoons of herbs and spices to a one pound loaf. I also learned from the forum that a cast iron pot, like in those no-knead recipes, gives good crust and needn't be pre-heated. The rest I arrived at through experimentation, It's fairly high hydration, but has a couple teaspoons of yeast and eight minutes of kneading, unlike the regular CI pot breads. It's too sticky to be a fun knead, so I usually use the dough hook, because this is my quick and easy, but the trade-off is cleaning water. Sometimes, I use the "human dough hook". I hold the sticky mass and pull and fold it like taffy. In the end, one's hands aren't messier than kneading the same dough on a silicone mat. To further save water, I've started rising the dough in the pot. Lift it out, while punching down and turning, and spray a little oil in the pot. The ball goes back in with a flip over. Then a bake in a hot oven and it's done. We're taught to keep putting tthe dough in a clean new bowl each time, but it doesn't seem to make a difference.

My pumpkin shaped CI dutch oven, which isn't great for induction (too small a flat bottom surface), so has been put back in use as my bread pot. It gives a flower shape to the bread, but it slices like a boule.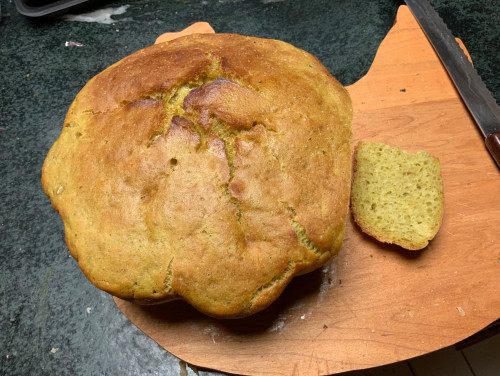 Favorite flavors besides herb (requires marjoram) include onion (small handful dehydrated chopped onion and a little less volume dry parsley, plus a splash extra water), curry and allium, and barbecue (mesquite powder plus bbq seasoning). Pepper, very finely milled, is excellent. Below is the curry powder plus mixed allium powder bread: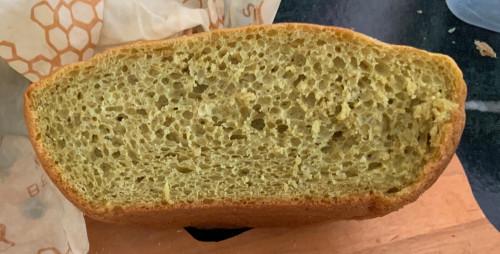 Regular color (herb and pepper bread)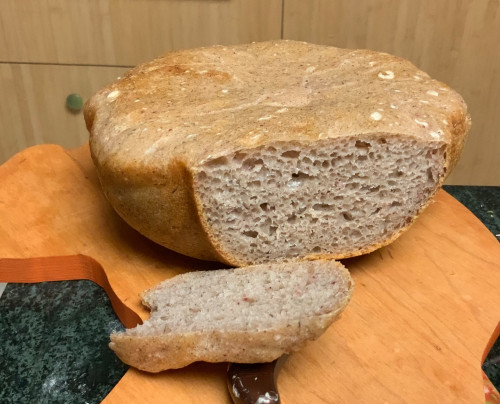 My best white bread—best tasting, perfect texture—is my Escape From Vienna sourdough, which was adapted from a Vienna bread recipe. It uses a very small amount of starter, so it doesn't matter what the composition of the starter is, which makes it even easier. It's also pretty wet, but requires three sets of kneading for ten seconds each, spaced by fifteen minutes, then three stretch and folds spaced by one hour each. It's therefore a day long commitment, plus more if one needs to feed up the starter, but takes extremely little exertion. Alexa helps, with the voice timers. It's dead easy, If one is working in or near the kitchen anyway. This is all in one vessel, but does require the kneading mat and baking tray. Relatively little cleaning water, since my bowl goes in the dishwasher easily.

I still make a football shape, ish, like Vienna bread, but I've made it half again bigger without any issues. I always forget to make the crust pretty. It tastes good, even so.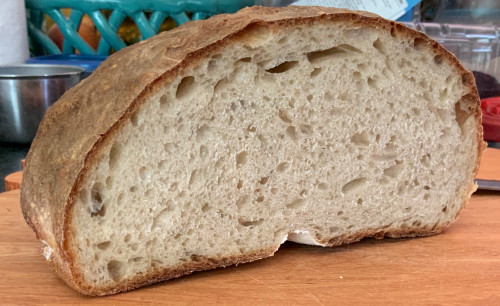 Please share your own ideas and photos about daily bread! What do you like? What have you invented? What special techniques do you use?