Farm weddings and birch tree cakes...
Yeah, OK, so the Redneck Bonanza is in the past, and a young couple asked if they could get married at the farm, she wanted to be married in my big old barn. I explained that I actually had a working farm, not just an empty barn, but she was OK with that. Then she asked if they could just have the reception in my pole barn. I told her, jokingly, that she'd have to clean that. She was OK with that too. Ahem. So, today there's a pig roaster in front of the pole barn doors, a tent outside, and I baked the cake. She wanted it to look like a birch log, that's apparently the big deal now.
So......I went to work. The bottom layer is white almond sour cream with a raspberry filling. Middle layer is chocolate with white chocolate mousse and the top layer is dark chocolate with peanut butter cup filling, all made from scratch (see cake mix thread, LOL).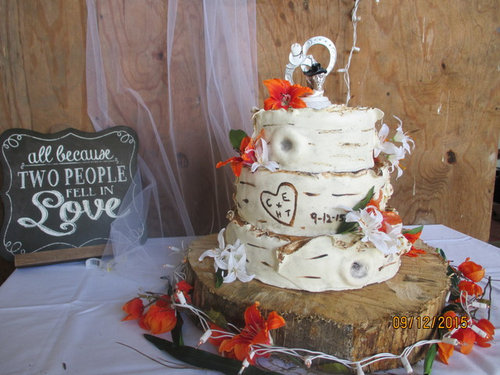 My competent "assistant" was on hand to help, of course...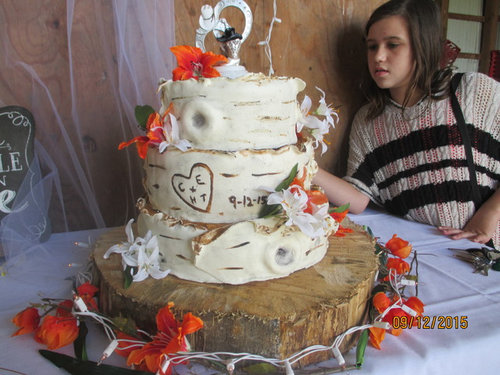 They put up signs...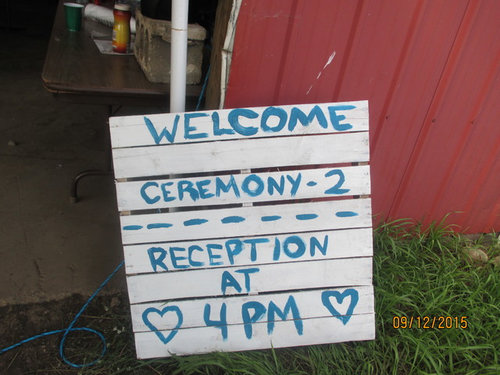 And a tent, of sorts...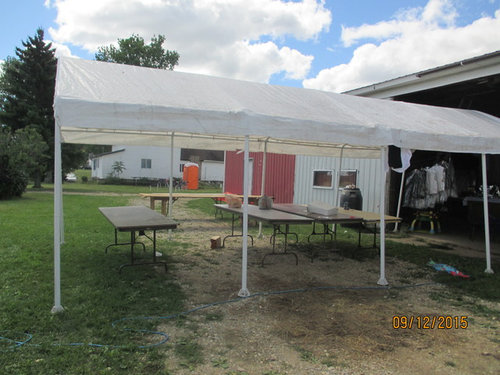 Yes, that's a "porta potty in the background, bright orange, LOL. Makayla made decorations for the tables.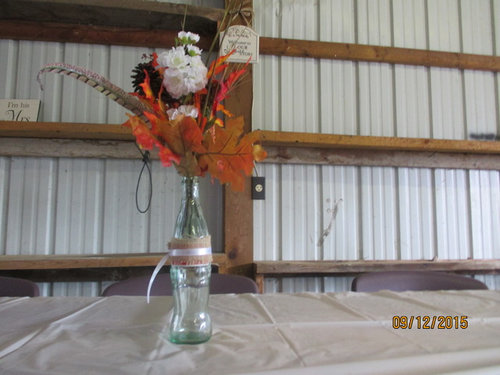 The wedding was an hour and a half ago, the reception starts in another half hour. The girls got dressed at the Town Hall, the guys dressed in a horse trailer, LOL. Tuxes have camo vests, of course, it's another fashionable thing here, and everyone is a "horse person" at this wedding, thus the horseshoe/cowboy hat cake topper.
They will have a bartender, this is his "bar". Yeah, that's my air compressor in the corner, but it's hardwired in, so I can't move it. The bartender is going to be "Pat", obviously, so for all I know, it could be a girl, LOL, but they're starting with a keg of Miller's Light, a bottle of vodka shaped like a gun and some Orange Sunkist. Wanna make a guess on how many will be sick before the night is over?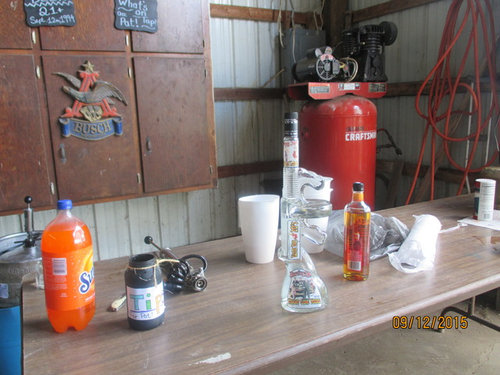 Actually, they're nice kids. The groom works for Dave as a mechanic, the bride went to school to be a diesel mechanic, but dropped out when she got pregnant with their son, Zane. The baby is 4 months old or so, and money is tight, so the cost to rent a "venue" was not in their budget, nor was a wedding cake. The reception will be our typical "pot luck" reception, Amanda is taking a big pan of au gratin potatoes. The kids will be married, a party will be had and no one will be paying bills for years for a reception/wedding that no one could afford anyway. A cousin has a small "garage band", so the music is live, the food is good, the kids are happy, and there's cake. What more could a newly married couple want? (grin)
Hey, maybe I could start a new business, farm weddings!

Annie