Winter Sowing Seed Exchange FAQs ~ How do I keep track of my trades?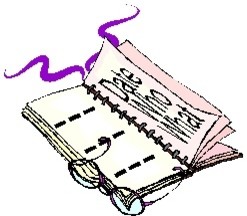 It's YOUR RESPONSIBILITY to keep track of who you are trading with. You print a copy of the trade for your records, or save it into a notebook.
An easy way to do this is to print out the address correspondence and write on it the day you mailed out your envelope. Save your correspondence in a brightly colored pocket folder and use it ONLY FOR YOUR TRADES. Keep it by your computer and never walk it out of the room!!!
If you don't have a printer you can keep track of your trades by writing down the info in a spiral notebook. Use one sheet per trade/sase. Write down the email of the person you're mailing to, what was sent, what is expected in return, and write down the day it was sent. An excellent suggestion is to put a piece of long ribbon through a ring-hole in the spiral binder and TIE IT TO THE COMPUTER TABLE so it can't disappear. When the seeds come in you can look up right away who they're from and send a THANK YOU via email. Then draw a line through the page to indicate that the trade has been completed....now you're done!
I save my "address" emails to a folder in my inbox that I've created called "seed trades". When the seeds come in, I pull up the corresponding letter, and I hit the "respond button" and I say, "thanks, I got the seeds!". Once you say THANK YOU your responsibility is done....all GOOD TRADERS acknowledge the receipt of the other trader's seeds and say thank you. You can then delete the email or move it to another folder called "completed trades".
Once you've sent a "Thank You for Trading" you're done with the trade. Store your seeds where they'll be safe and dry until you sow them, and dream and plan for your new garden and future trades.
=====================================