What to do when the book is so boring you can't finish the page?
Make meatloaf!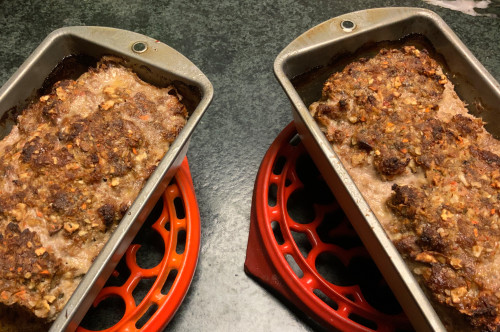 2 lbs. ground beef (grass fed)
1 lb. Italian turkey sausage
3.5 sheets matzah, pulerized
1/3 lb. carrots, minced
1 onion between baseball and softball size, minced
overflowing handful of parsley, fresh chopped or dry
3 eggs
salt & pepper
neutral oil or oil spray

Run the matzah through the food processor, to small crumbs, first, while it's dry. Dump in A big stainless bowl. Run the carrots, onion, and parsley if it's fresh, through the FP until minced. Dump in the bowl, inc. parsley if dried. Add seasoning, generously. Peel and break up sausage into bowl. Break up beef into bowl. Add eggs, break the yolks, and use fingers to combine all well. Don't overwork or squish. Coat two 8" loaf pans with oil. Form the meat mix into two loaves without mashing And place in pans. Bake at 350° F for one hour. Let rest before slicing.