New Lavash recipe, Armenian Flatbread
I've tried several lavash recipes in the past, but now I think I'm getting close to what I really want. Here's the recipe that I used:
1 cup warm water
1 tsp sugar (my addition – may cause scorching of bread)
1 tsp instant dry yeast (IDY)
1 cup white whole wheat flour
1 Tbsp Vital Wheat Gluten (VWG) - optional
2 cups bread flour (or all purpose flour)
3/4 to 1-1/2 tsp salt (depending on how salty your like your bread)
Dissolve sugar in warm water in mixer bowl – whisk in yeast by hand. Add whole wheat flour and VWG (if using) and whisk to combine. Mix salt with bread flour and add mixture on top, and mix in stand mixer with dough hook until completely combined, scraping down sides, as needed. This can also be mixed by hand. Remove dough from mixer bowl and knead into a smooth ball. Replace dough into mixer bowl without greasing and cover with plastic wrap. Allow to rise for 1-1/2 hours, or until doubled.
Divide dough into twelve equal parts, form into balls, cover dough balls with damp towel, and allow to rest for 25 minutes, covered with damp towel.
Roll balls, one at a time, into thin ovals or circles and stretch into very thin sheets.
Cook on a very hot griddle or grill pan, one minute each side - one minute 20 seconds max. (She used a grill pan with very shallow, rounded ridges.) Remove using tongs, and spray generously with water on both sides while holding it up with tongs. Lay cooked bread on a wire rack and cover with a damp towel.
Repeat process with all the balls of dough, layering them on top of each other on the wire rack, spraying generously with water. Rearrange stack frequently to keep the bread from sticking.
Store cooled bread in a plastic bag. It will soften over night. If you reheat it in a skillet, it will puff back up again. Very good for quesadillas or wraps, or to eat with hummus.
I got this from watching this video. I won't try to post a video in my original post.
Here are some photos of the process: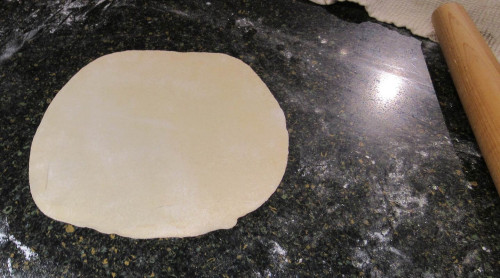 Dough rolled out on my counter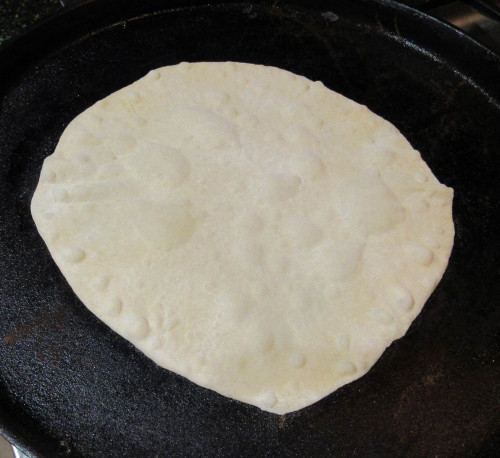 First bubbles.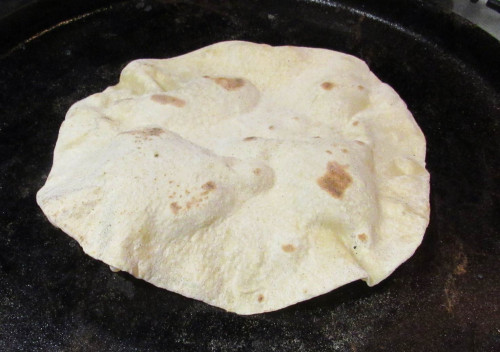 Getting puffy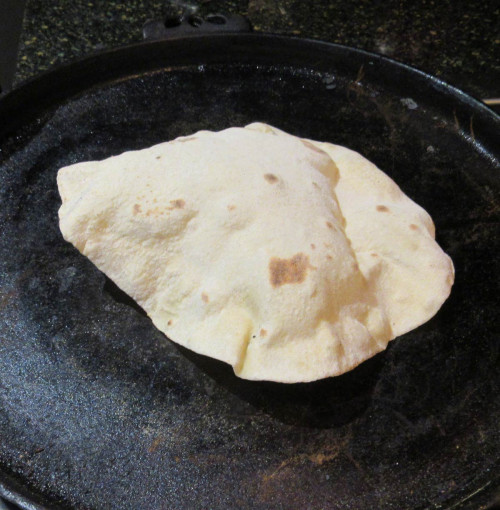 Extremely puffed.
I don't know why mine puffed up so much - they seemed almost like pita bread.
What I did notice is that it is very important to spray them with water after cooking them. They were actually better the next day, after they had had time to relax and become more pliable.
Here's another recipe that is similar but does not use yeast. I wonder if I need the yeast at all. I did roll the dough out very thinly and stretched it as well. The first recipe used a bit too much salt, I think, as the second recipe uses 1/3 as much salt.
Do I need to keep the yeast?
I'll post more photos once this gets on line.