Fun with Sourdough
Most of my sourdough experience is in making weird bread. My recipes are idiosyncratic, require a lot of different ingredients, and are not necessarily reproducible. So I went looking for a basic recipe for basic white sourdough bread. They're ridiculously hard to find. Most of the ones I've read are really loosey goosey with their measurements, or don't specify the composition of the starters, or are otherwise odd. I found an interesting one for "Vienna bread" on Sourdough.com. I think the author is donyoekl (that name is on it. I'm just not sure if that means the author). I ended up wandering away from the method for getting that specific kind of bread, and just made bread. The combination of kneading and stretch and folds developed the bread nicely, without the wait and hope business of a lot of high hydration breads.

Like most sourdough breads, this takes all day. You can start the preferment late the prior evening if you'll be ready to start working with it first thing in the morning. I spent a total of about 12 hours, from preferment to loaf out of the oven, but your times will vary depending on your own starter and environment.
Before you start, make sure your starter is strong and will double in size within 8 hours and hold its rise for at least 12 hours. Mine will double within 5 hours and hold its rise for 24 hours. Without a strong starter, your bread may never rise. You can also augment with a little commercial yeast, but at that point, you could just let your starter mature and just make commercial yeast bread.

This recipe should work with King Arthur unbleached All Purpose flour (11.7% protein), or bread flour. My flour is rated at 11.5% protein and has malt (you can't tell the protein content by the nutrition label which makes them all the same due to rounding error.) If you only have a weaker AP, you may have to knead a lot more and wait longer to get sufficient gluten development. You don't need malt, but if you have some and want to add it, try a teaspoon or two.
Here is my version of the recipe:

Small Sourdough Loaf "Escape From Vienna"

Preferment:
· 1 Tbsp Starter
[Mine is 70% hydration, originally KA AP, fed once with CM AC and once with CM AC+. I stuck the tablespoon into well risen starter and pulled out a heap. By eye it looked like minus the air it was about a tablespoonful.]
· 100 g water
[I used previously carbonated spring water that had gone flat. Non-chlorinated is best.]
· 100 g bread flour
[I used Central Milling Artisan Craft Plus, which has a similar protein content (gluten underpinnings) to KA All Purpose, but also has malted barley, which many white flours have, but I think KA does not. The malt improves the rise]

Dough:
·100 g cool water [same as above]
·200 g bread flour [same as above]
·1 tsp salt [I used Morton's iodized table salt]
·oil
[I used EVOO that was wholly underwhelming, and which I want to use up, for kneading, and spray sunflower oil for the bowl. You can use any oil that tastes like something you'd want to taste on your bread (i.e. peanut and sesame are not great choices).]

Directions
1. Make the preferment. Put the starter in a small bowl, stir in the water with a small scraper or similar, until the starter is dissolved, then stir in the flour. Cover, and wait until it's well risen and bubbly all over (5-10 hours.)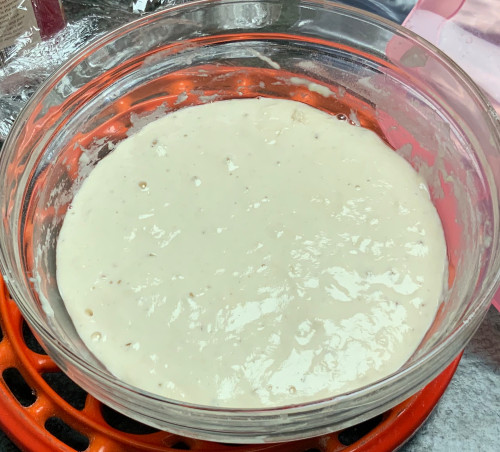 2. Make the bread dough: Stir the salt into the flour in a larger bowl. Add the preferment and water and mix. It's probably easiest to use your hands. [I tried my Danish dough whisk, but had to finish with my hands.]

3. Spread a little oil on a clean, non-porous work surface. A Silpat or pizza pan or cookie sheet, are good choices. Some people like to work right on their counters. Use your hands to spread the oil thinly, meanwhile oiling your hands so they don't draw water out of the dough, and don't stick while you knead (and your hands will feel great after).

4. Move the dough to the oiled work surface and make sure all the flour is incorporated (squish with your fingers).
Knead for 10 seconds, return dough to bowl, cover, wait 15 minutes.
Knead for 10 seconds, return dough to bowl, cover, wait 15 minutes.
Knead for 10 seconds, return dough to bowl, cover, wait 15 minutes.
Stretch and fold with dough in bowl, turn, cover, wait 1 hour.
Stretch and fold with dough in bowl, turn, cover, wait 1 hour.
Stretch and fold with dough in bowl, turn, cover, wait 1 hour.

Each time you stretch and fold, the dough should feel a little tighter and stronger.
I love this method. The initial dough is doughy enough to handle and knead, not goop. Kneading is wonderful! I've never heard of this 10 second knead before, but it works. At about the ten second point, you can feel the dough stiffening. It loosens up during the wait, then tightens again at the next knead.

Stretch and fold methods:
https://www.youtube.com/watch?v=Lz9CO1PJ0sM time 3:12

This is the first video that comes up when I google 'stretch and fold dough". (I wasn't about to try to film a demo myself!). For those who have never done it, it's a very good explanation. The video is a whole big experiment for different techniques, which is interesting, but not necessary for this recipe. The stretching and folding starts at the time in, above, if you want to skip to it. He shows three ways of doing it. I do the normal, two handed version. Some depends on the size of your hands and your ability to control the dough.
5. Preheat oven to 440° F. Put a light layer of flour on a cookie sheet, quarter sheet
pan, pizza pan, or whatever you have with no tall sides. Shape your loaf and place it in the middle of the pan. Cover with a tea towel dampened with warm water (it'll soon be cold and clammy, but it's nicer if it starts warm). Let rise to about double. Your loaf may spread more than it rises.

6. Have a pan of water ready to put on the lower shelf in your oven, or a dish of water to put beside your bread pan if you only have one shelf (or use your favorite crusty baking method). If you want a crunchy crust, heat the water pan while you heat the oven, and put warm water in it when you put your loaf in.
Slash your loaf, and put the bread in its pan, and the pan of water in the oven.
Bake for 30 minutes or until done. (The loaf should sound hollow when thumped on the bottom, or have an internal temperature over 195° F.)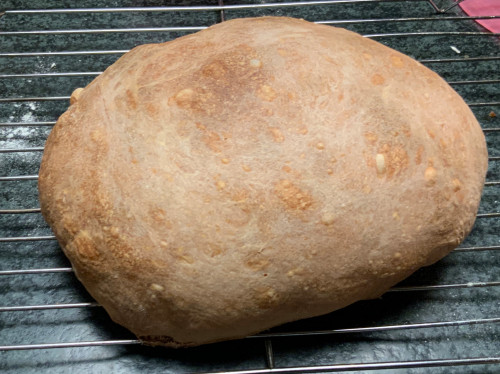 I forgot to slash my bread, so it cracked, like it's supposed to, and got a good oven spring.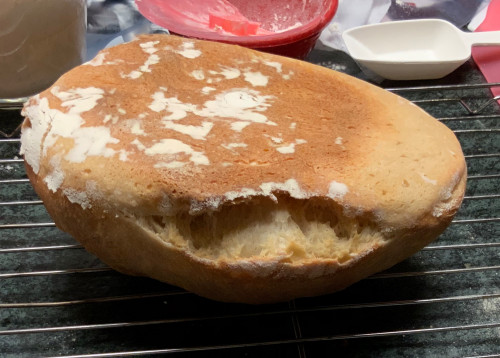 This kind of holey crumb is technically a flaw. It means that there was too much water, and/or not strong enough gluten. In this case, the crumb is very moist, but firm and springy, and in the oven it sprang up rather than spreading, so I think it was too much water....But that's the point of high hydration bread. People like the big holes. I won't by tweaking the hydration.

The crust has body and texture, but is not crunchy nor hard, which is the point of putting the water pan in with the bread, rather than having it already hot and steamy. I like this. You may prefer something different.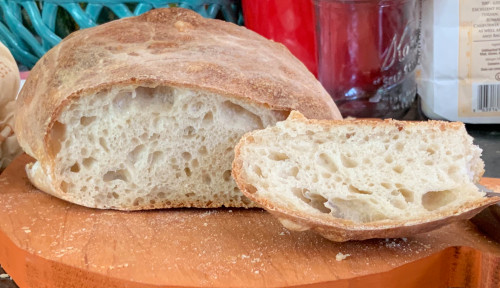 You can see the bite out of it in the picture. :) It tastes great! Very flavorful. Not really sour, just super tasty. I could want to eat this bread all the time. The crumb is moist and elastic, and the crust has thickness and chew. I ate the whole heel, tearing out some of the crumb to check separately. To me, great bread doesn't need anything on it. This, therefore, is great bread. :)

It's not a lot of work, but a lot of don't leave the vicinity time (after the preferment) with all the stop and messing with it. It's easy to set the timer and do plenty of other things during all the handling. My shaped rise, btw, took an hour, but I checked it after half an hour. I don't think this bread will scale. Given enough bowls, however, one could make two or three loaves in parallel then bake them together.