Time for a new roof.
I asked last year about my garage door and shutter colors. The weather got bad and then I took a long trip so ran out of time to do any painting. Now my roof needs to be replaced. I really looked at it last week and it's time. So, will plan the garage colors with the shutter and roof colors now. Looking at other homes on my street that are nearly identical to mine, I've decided against a brown roof. I don't want my house to look like the others. So, am thinking of dark green or black. The black looks fine to me but the green I'm not so sure of. Even going to a roofing website and uploading my house and looking at it, I can't decide. Would you put a green or black roof on this house? I'm almost certain going to go with a dark green color for the shutters and probably the Metallic Bronze for the garage, I think Nicole posted about last year on my garage post. Before I decide, will probably do the roof first.
My daughter drove me around looking at houses this afternoon and the only green roofs were on white or tan sided homes. There were green-tinted with brown roofing tiles on brick homes but they weren't dark green and they weren't on brown brick homes.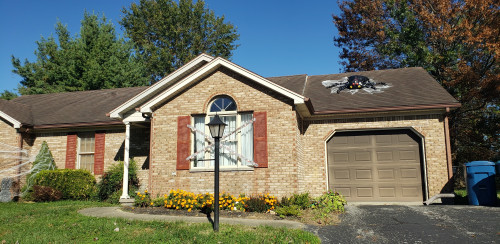 Here's my house last Fall. The driveway is getting fixed this summer too, if it ever quits raining. You can't tell by the picture but the darker part of the bricks look almost the same color as the shutters, a reddish brown.