How do paint colors change in north facing rooms? kitchen color help
Confused on how paint colors change in a northern exposure. do blues get bluer? yellows turn green? why do some white's turn pinkish? Color theory is fascinating - undertones and/or chroma theory...so much to learn.

I'm trying to find a white/light cabinet color that will look soft and welcoming (not dull/flat or turn oddly yellow/pink) and that will go with my counter top. Some counter tops I like are Caesarstone Staturio Maximus 5031, Cambria Summerhill, Infinity White Quartzite, Sea Pearl Quartzite and Delegate Cambria for a bit of a warmer counter - but my least favorite as far as design/pattern. I am drawn to the grays and the marble look, but how to balance cabinet color that won't look washed out.

Am considering SW Grizzle Gray 7068 or SW Gibraltar 6257 for a kitchen island. SW Gibraltar is a blue gray, how the north exposure will affect it? Will it become more blue? brighter? or more dull and/or grayer? Grizzle Gray appears somewhat greener - will it look bluer in the north facing room since I've read that northern light enhances blue tones?

All the warm SW whites seem off to the counter tops I'm looking at. The whites that match are cool toned but I fear they will look horrible in a north facing room. I like the look of SW Alabaster and SW Westhighland White but will they turn green? (yellow + blue exposure light = green). I keep reading that I need a white with warmth to balance northern light.

Kitchen and great room has large windows and sweeping views (no other house/buildings to block light) but it faces directly N.

My inspiration pictures is: It's Cambria Summerhill, SW Alabaster cabinets, and walls in SW Collande Gray and BM Gibraltar Cliffs. Wonder how this would look in a north facing room. Alabaster doesn't look yellow at all.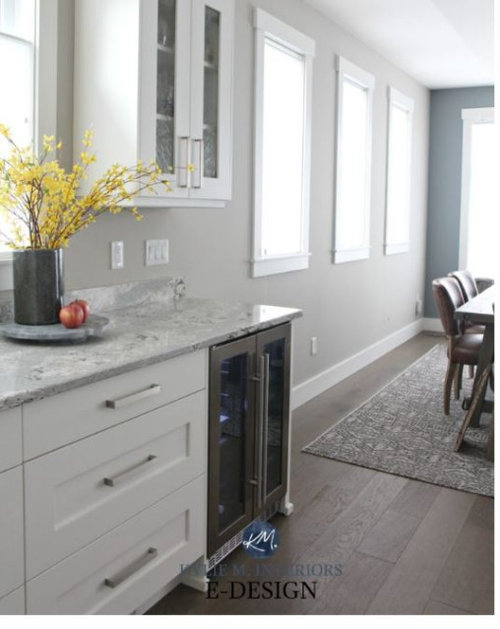 The pic below is of Caesarstone Staturio Maximus with paint colors
Very top : SW fan deck
top Right - BM Gibraltor
cabinet piece - Huntwood Cabinets Colonial White - stock sample
SW Westhighland White
SW Alabaster
bottom R - SW Grizzle Gray

The colonial white cabinet piece is just so bright (though oddly doesn't appear this way in the photo) - doesn't have any warmth to it. I love the Gibraltar but if it's going to turn 'bluer' then it will be too blue.