The Accidental Caterer
Has anyone here done catering?

SWMBO and her friend Marcie are catering three breakfasts and a lunch for a group of 35 this week. This isn't a regular occurrence here; another friend is putting on a small multi day meeting and couldn't find an affordable caterer. Marcie used to own a restaurant and she and SWMBO said they'd do it. They've done stuff like this before and work well together.

It seems like a ton of work. My house has been a bedlam of shopping, prepping, baking, cooking, packing, and cleaning. There are chafing dishes, hotel trays, platters, and dishracks everywhere. It smells like Baking and Frying - which sounds nice but gets less so after a while.

None but the two ladies are permitted to cook anything, because they have every implement and surface in use. The household has been grazing on random leftovers. I get up early every meeting and make them multiple espressos, in the evening they drink wine and cocktails while prepping the next day's food.

I don't know exactly what they've been serving but it sounds fairly sumptuous. The meeting attendees are being stuffed like turkeys.

Fortunately the reviews have been rave and tomorrow is the last breakfast. Then the cleanup begins. My Hobart dishwasher has been working hard, although I guess it's still just a vacation compared to what it was designed for.

I'm curious to see what they net from this. Their fee is $20 per person per meal, then there's the food cost and the time. I'm thinking it probably translates to about $25/hour.

The cool thing is that I've been introduced to the wonders of Cash 'n Carry and similar places where restaurants buy food. Wow, the prices are great - if you can use the large quantities. Earlier in the week I picked up their smallest available quantity of pork tenderloins and made these (below, before roasting) before I was excluded from the kitchen. Yes, I realize they look kind of like maggots in bondage.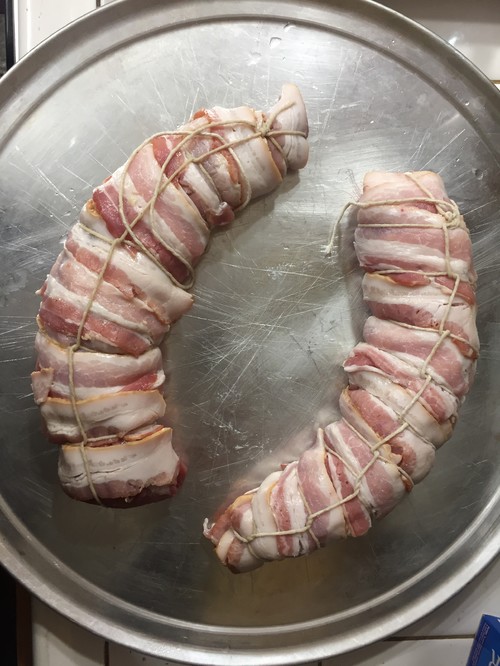 Marcie has spent her life in spacious commercial kitchens, but she still claims to love my cramped kitchen. She's very nice. One thing she and I agree on is that the sink is frustrating. It is the standard divided kitchen sink, where neither side is big enough for a half sheet pan which really is the minimum size object that a kitchen sink should accommodate in my view.

She and I have been talking about darkroom sinks. Like this (random internet photo):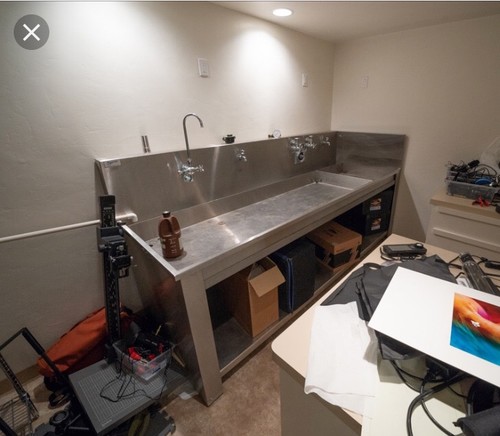 It seems to us one could have a darkroom sink almost the full length of a counter run, then weld rails along the front and rear inner walls. Whatever working surface you want could slide on these rails. Cutting surfaces, kneading surfaces, slotted drip surfaces, shallow tray surfaces, dishrack surfaces, like a linear game of Tetris. There'd always be a sink below to catch spills and debris and a long spray nozzle to get every corner. Very industrial but apparently that's kind of chic in some circles.

Well, back to reality. I do not have a cool sink, my kitchen is a freaking disaster and my house smells like Danish and sausage. Sigh. But the ladies are having fun!