Eat "Dutch" -- Rouladen
We ate "Dutch" last night as my father's German family used to say when eating German food. Rouladen which I had eaten before but never made. Modestly, I must admit that I "nailed it"! Served with the required red cabbage!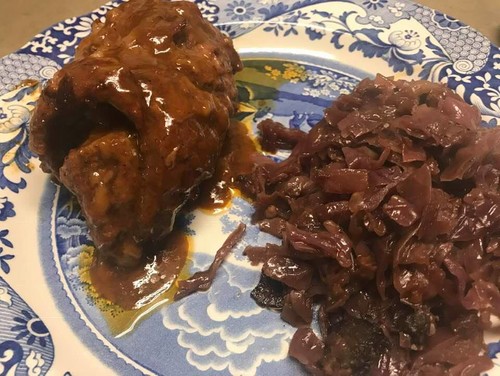 BEEF ROULADEN

4 8 ounce sirloin steaks
2 t. salt
1/4 t. pepper
4 slices bacon
4 thick slices onion, cut in half
1 large dill pickle, cut lengthwise into fourths
1/4 c. plus 1 T. flour, divided
4 t. butter
2 cups beef broth
2 T. ketchup

Flatten steaks with meat claver until very thin; season with salt and pepper. On each steak, place a slice of bacon, 1/2 onion slice and one pickle stick. Roll up steak and tie with string. Roll in 1/4 c. flour and saute in butter until well browned. Add 1 T. flour to butter. Add broth and ketchup, cover pan and cook slowly for 30 minutes. Remove string before serving.