Painting - converting a desk to bathroom vanity
Hi all,
I'd like some advice and inspiration. I bought this desk and intend to turn it into a bathroom vanity for a little apartment here at our place that we're preparing for my Mom. The kneehole style will be good if she needs to sit and get her knees under the sink as she ages. I don't mind the quirkiness of the decoration to some degree, but I really dislike the yellowed quality of the paint and the extreme-kitsch of the paintings on the drawer fronts. I am thinking to leave the side paintings on but repaint the front and inside panels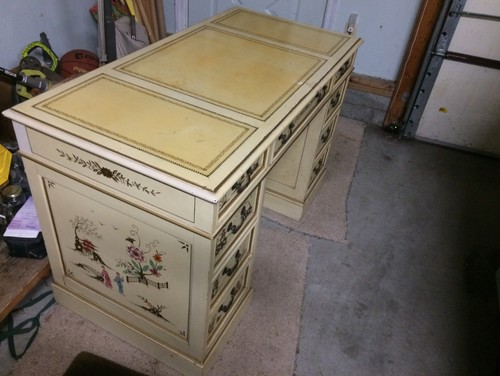 and drawers. We're making a countertop out of Stone Coat Countertop epoxy and plan for it to be like a light green and white marble look. There will be a square, white, self-rimming sink in the top-center. White toilet. Not sure of the shower or tile color yet. So, how to paint the front? One color? Or two to bring out some of the moulding detail on the drawers? Opinions? Ideas? Thanks!