Okonomiyaki - simplified recipe
Yesterday I made okonomiyaki for breakfast, as I had bought some Napa cabbage specifically for this recipe. The one drawback was that the Tenskau I had on hand had gone back - need to get some more the next time I go to a Japanese market. A good substitute for this is Rice Krispies, but I don't have those either.
I have posted this recipe before and but I am posting it again because now you can get all the odd ingredients needed for it from Amazon, including Okonomiyaki sauce, which I also bought rather than made, although I include the recipe for the sauce. This link also includes the Okonomiyaki flour and Kewpie Mayonnaise, which I consider essential, but you also need bonito flakes.
OKONOMIYAKI
BY LARS
Sauce
1/4
cup ketchup (use sugar reduced Heinz)
1-1/2
tbsp Worcestershire sauce
1/2
tsp Dijon mustard
2
tbsp Mirin
2
tbsp sugar
1
tsp soy sauce
Batter
1-1/8
cup cake flour (or okonomiyaki mix)
2
tbsp grated Japanese Yam or Taro root, or 2 tbsp potato or tapioca
starch
1/2
tsp baking powder
3/4
cup dashi (3/4 cup water plus 1 tsp dashi no moto [+ 1 tsp seaweed
tsukudani])
(can use 2 tsp soy sauce instead of dashi no moto)
2
eggs
1-1/2
to 2 cups finely shredded Napa cabbage (about 1/3 head)
2
green onions, finely sliced, including tops (or 1/3 cup minced white
onion)
2
tbsp minced beni shoga (pickled red ginger; can substitute sushi
shoga)
2
thinly sliced sausages or teriyaki meatballs (about 7 ounces)
1/3 cup Tenkasu (Tempura bits) – can substitute Rice
Krispies or Panko
2-3 tbsp vegetable oil (or olive oil) for sautéing
6 strips bacon, cut into 3" pieces (Optional)
Toppings
(Okonomiyaki sauce, above)
1/4
cupkatsuobushi (bonito flakes), chopped
Kewpie
Mayonnaise (or 2 tbsp mayonnaise with 1/2 tsp wasabi or Sriracha
sauce)
2
tbsp toasted and crumbled nori (or sesame-nori Furikake), optional
In
a small saucepan, combine the sauce ingredients and bring to a boil.
Cook over low heat for three minutes, remove the pan from the heat,
and set aside. [I do not keep ketchup on hand and therefore use
store bought Okonomiyaki sauce.]
Sift
the flour, starch, and baking powder into a large bowl. Add the
dashi and eggs, and whisk until you have a smooth batter. Adjust the
liquid, if necessary, to become pancake batter consistency. Add the
cabbage, benishoga, sausages/meatballs, and tensaksu and stir until
evenly combined. Divide batter in half (each half will be about
1-1/3 cups).
Heat
a griddle (or two very large iron skillets) and add the vegetable
oil, evenly distributing. Remove excess oil and reserve it for oiling
the griddle later. Pour 1/2 of the batter into a circle, and spread
the circle to a 6 to 6½" diameter, using spatulas to push the
outside edges back into the correct diameter and to keep the
thickness even. Repeat with the remaining batter. Add bacon strips
to cover the top of each pancake (if using). Cook the pancakes over
medium heat for about 3 minutes; flip, and cook for 4 more minutes.
Flip pancakes again (bacon side up) and cook for 3 more minutes or
until firm and well browned. Can be flipped multiple times to get
even doneness.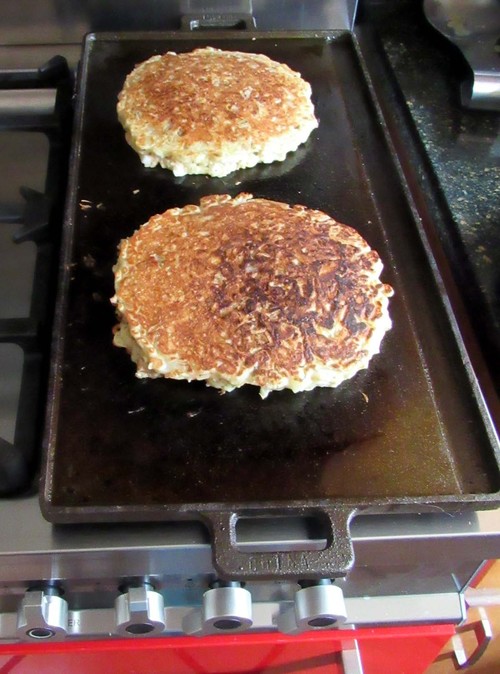 Remove
to plate and spread reserved okonomiyaki sauce thinly over the top
surface of each pancake. (You will need only half of the sauce made
and can reserve the rest for the next batch.)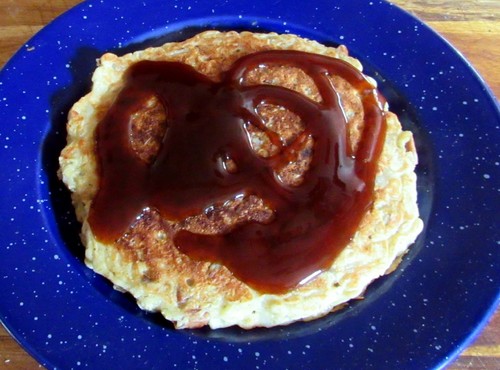 Sprinkle bonito flakes
on top of sauce and press in lightly, to keep in place.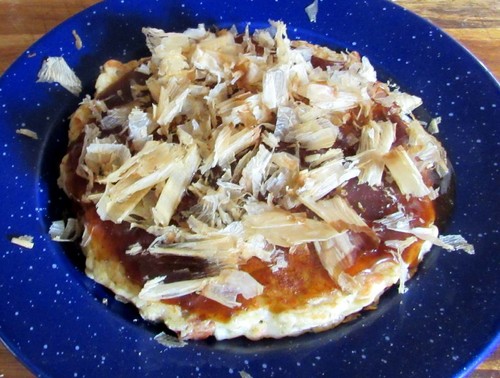 Drizzle with
Kewpie Mayonnaise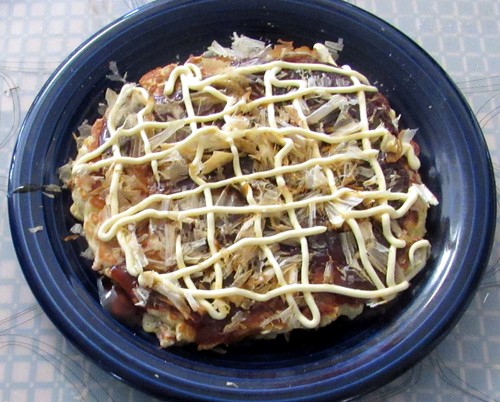 (or substitute made), and then sprinkle on the
crumbled nori or Furikake. You can use the Furikake of your choice,
but it should definitely have nori and sesame. (I forgot to do this, but since I used
seaweed
tsukudani in my dashi, it was not necessary.)
Cut
each pancake into six wedges and serve hot. Can be reheated on the
griddle if needed. I also forgot to cut mine into wedges, but I set knives with the plates.
This is one of my favorite ways to have cabbage, but Kevin said he could not even tell it had cabbage in it.
I have a very large pancake turner that I use for this, but I have seen chefs in restaurants using two turners to keep the batter in place and for turning. The original recipe called for 1 cup of flour, but this made a batter that is too loose, and so I added another 2 tablespoons. If I had not added this flour, the batter would have been a bit runny, and I would have needed two turners to keep the batter in place.
Here is another method: