Herbs for Winter Sowing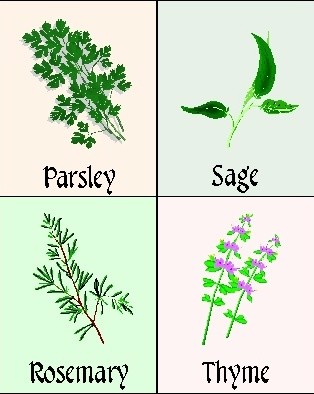 This is a list of plant suggestions for an herb garden. As I do more research I will add names to it as I find them, so do check the list frequently for new additions.
Plant zones are SUGGESTED, in your garden a plant may be less or more hardy so it important that you research all herbs before growing them to understand their individual needs, and to see if your garden suits them and that they will thrive in your planting zone.
In general most herbs will grow well in poor soil. Fertilize with a just shovelful of compost as a top-dressing during Spring and Autumn. Water established plants only during excessive drought.
Herb List
Achillea ageratum - SWEET NANCY
Z3-10
Achillea millefolium - COMMON YARROW
Z3-10
Achillea millefolium - PINK-FLOWERED COMMON YARROW
Z3-10
Aconitum napellus - GARDEN MONKSHOOD
Z3-7
Agastache rugosa - GIANT HYSSOP
Z6-10
Agrimonia eupatoria - AGRIMONY
Z6-9
Agrimonia pilosa - CHINESE AGRIMONY
Z5-9
Alcea rosea - HOLLYHOCK
Z3-9
Alchemilla alpina - ALPINE LADY'S-MANTLE
Z3-9
Alchemilla mollis - LADY"S MANTLE
Z3-9
Alkanna tinctoria - ALKANET
Z4-9 (biennial)
Allium cepa - EGYPTIAN ONION
Z4-10
Allium sativum - GARLIC
Z4-10
Allium sativum var. ophioscorodon - SERPENT GARLIC
Z4-10
Allium schoenoprasum - PROFUSION CHIVES
Z4-10
Althaea officinalis - MARSH MALLOW
Z3-9
Anemone tomentosa - GRAPE LEAF ANEMONE
Z4-8
Angelica atropurpurea - GREAT ANGELICA
Z4-9
Anthemis tinctoria - DYER'S CHAMOMILE
Z4-9
Apocynum androsaemifolium - INDIAN HEMP
Z3-9
Armoracia rusticana - HORSERADISH
Z3-8
Arnica chamissonis - AMERICAN ARNICA
Z7-9
Artemisia abrotanum - LEMON-SCENTED SOUTHERNWOOD
Z3-9
Artemisia absinthium - WORMWOOD
Z3-9
Artemisia dracunculus var. sativa - FRENCH TARRAGON
Z3-9
Artemisia vulgaris - MUGWORT
Z3-9
Asclepias tuberosa - BUTTERFLY WEED
Z3-9
Astilbe - PLUME FLOWER
Z5-8
Bellis perennis - ENGLISH DAISY
Z4-8
Berlandiera lyrata - CHOCOLATE FLOWER
Z7-9
Campanula rapunculus - RAMPION
Z4-7
Campanula rotundifolia - BLUEBELL
Z4-7
Chamaemelum nobile - ROMAN CHAMOMILE
Z4-8
Chelidonium majus - CELANDINE
Z4-8
Chenopodium bonus-henricus- GOOD-KING-HENRY
(annual)
Clinopodium vulgare - WILD BASIL
Z6-9
Convallaria majalis - LILY-OF-THE-VALLEY
Z2-7
Dianthus gratianopolitanus - CHEDDAR PINK
Z3-8
Dianthus plumarius - COTTAGE PINK
Z3-9
Digitalis lanata - GRECIAN FOXGLOVE
Z4-8
Echinacea pallida - CONEFLOWER
Z3-10
Echinacea purpurea - PURPLE CONEFLOWER
Z3-8
Elymus glaucus - BLUE WILD RYE
Z3-8
Foeniculum vulgare - FENNEL
(annual)
Galium odoratum - SWEET WOODRUFF
Z4-8
Galium verum - YELLOW BEDSTRAW
Z4-8
Geranium maculatum - WILD GERANIUM
Z3-8
Geranium pratense - CRANESBILL
Z3-8
Helenium autumnale - SNEEZEWEED
Z3-8
Humulus lupulus - COMMON HOPS
Z3-8
Hypericum perforatum - ST. JOHN'S WORT
Z3-8
Iris versicolor - WILD IRIS
Z3-9
Iris x germanica - ORRIS
Z3-8
Lavandula angustifolia - ENGLISH LAVENDER
Z5-9
Marrubium vulgare - COMMON HOREHOUND
Z4-8
Melissa officinalis - Lemon BALM
Z4-8
Mentha - MINT
Z4-9
Mentha pulegium - PENNYROYAL
Z4-9
Mentha spicata - SPEARMINT
Z4-9
Mentha x gracilis - DOUBLEMINT
Z4-9
Mentha x piperita - PEPPERMINT
Z4-9
Monarda didyma - BEE BALM
Z4-9
Monarda fistulosa - OSWEGO TEA
Z3-9
Monarda menthifolia - MINT-LEAVED BERGAMOT
Z4-9
Nepeta cataria - CATMINT
Z3-8
Origanum laevigatum - OREGANO
Z5-10
Origanum vulgare ssp. hirtum - GREEK OREGANO
Z5-10
Ocimum basilicum - BASIL, assorted varieties
(annual)
Perovskia artemesioides - RUSSIAN SAGE
Z5-9
Persicaria polymorpha - FLEECE PLANT
Z4-7
Pycnanthemum muticum - MOUNTAIN MINT
Z4-8
Pycnanthemum pilosum - HAIRY MOUNTAIN MINT
Z4-8
Rheum palmatum var. tanguticum - ORNAMENTAL RHUBARB
Z5-8
Rubia tinctorium - MADDER
Z6-10
Rumex sanguineus - BLOODY DOCK
Z3-9
Salvia lyrata - CANCER WEED
Z5-8
Salvia officinalis - COMMON SAGE
Z6-9
Salvia pratensis - MEADOW CLARY
Z4-8
Sanguisorba officinalis - GREAT BURNET
Z4-8
Solidago canadensis - GOLDENROD
Z3-8
Stachys byzantina - LAMB'S EARS
Z4-8
Stachys officinalis - BETONY
Z4-8
Symphytum officinale - COMMON COMFREY
Z4-9
Tanacetum cinerariifolium - PYRETHRUM
Z4-9
Tanacetum parthenium 'Aureum' - GOLDEN FEVERFEW
Z4-9
Teucrium chamaedrys - GERMANDER
Z5-9
Teucrium scorodonia - WOOD SAGE
Z5-9
Thymus - THYME
Z4-8
Thymus herba-barona - CARAWAY THYME
Z4-8
Thymus praecox ssp. arcticus - WOOLLY THYME
Z4-8
Thymus praecox ssp. arcticus 'Minor' - CREEPING WOOLLY THYME Z4-8
Thymus vulgaris - GARDEN THYME
Z4-8
Thymus x citriodorus - LEMON THYME
Z4-8
Trifolium pratense - RED CLOVER
Z4-9
Valeriana officinalis - COMMON VALERIAN
Zz5-9
Veronicastrum virginicum - CULVER'S ROOT
Z4-8
Viola odorata - SWEET VIOLET
Z3-7