Winter Sowing Seed Exchange FAQs ~ My trader's seeds didn't arrive .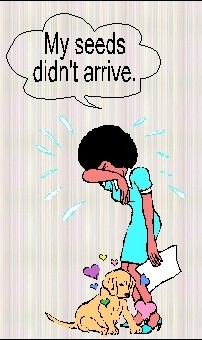 Occasionally trades go wrong, but that's very rare.

If it happens you handle it in private emails with one or two letters (no public cussin' or "naming names" is allowed on the seed exchange). Eventually you get your seeds. If you don't then "so what".....it's just seeds...not sport cars or mortgages. It isn't worth getting aggravated over.
Don't ever take a failed trade personally. More than likely the seeds got lost in the mail, a responsible trader will offer to replace them and send another set to you.
Sometimes, sadly, a trade doesn't arrive because the trader on the other side may suddenly be having a brutal time with life and that awful distraction can be enough to drive a trade out of one's head....the responsibility of the trade could be insignificant to the agonizing matters at hand. So if you do ever have a trade that doesn't work out please be very-VERY kind to the other trader when you write that the seeds haven't arrived yet.
Send one reminder email...wait a couple of weeks before sending another one if it's needed, then be just as kind as you were in the first one. After that DO NOT send another reminder. Just let it slide if the seeds never arrive.

The vast majority of traders are extremely generous and in just a month of trading you'll have more seeds than you know what to do with.