Winter Sowing Seed Exchange FAQs ~ How do I initiate a trade with ano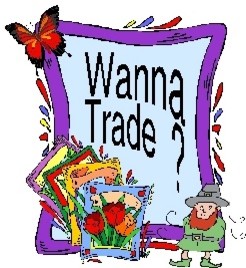 You read a post heading and if it attracts you then click on it and open it up...Let's see how to make a trade with "Gardener_Jane"
"HAVE: Marigolds, cosmos, banana melons, and others seeds."
Okay.....you go ahead and click on the link and there's Jane's list and you like a few things on it.

Let's see Jane's list....
I have these seeds to trade:

ANNUALS:

orange marigolds
pink cosmos
green nicotiana
purple balsam
PERENNIALS:

blue sea holly
pale pink halberd-leaved marshmallow
black knight butterfly bush
orange conflowers
unknown vine with white trumpet flowers....nice
VEGGIES AND HERBS:

Banana melons
habanero peppers (Ultra HOT!!)
cherry peppers (hot)
feverfew
SO....you need to reply to the post. Here's some adaptable examples of good replies:
Hi Gardener_Jane!

I'd like to trade for your marigolds, cosmos, banana melons, and habanero peppers. I've got white zinnias, mixed morning glories, mixed portulaca, and heirloom yellow boy tomatoes. Please let me know if you would like to trade.

Thanks,

Overall_Jim
OR......
Dear GJ,

I like your list and I would like to trade for these seeds:

marigolds
cosmos
banana melons
habanero peppers
Please look at my trade list on my member page. I hope we can trade.....let me know.

Thanks,

Overall_Jim
Those post replies are very clear. Jim tells Jane exactly what he wants to trade for. Jane likes that, she's a busy person. She doesn't have to take the time to send extra emails and she can make her trades quickly and easily.