AnnT ? - Tarte au sucre...
Ann, your photo of Tarte au sucre from the WFD thread has been haunting me! It looks delicious. So, I looked for a recipe on epicurious, and although it clearly wasn't the same, I gave it a try: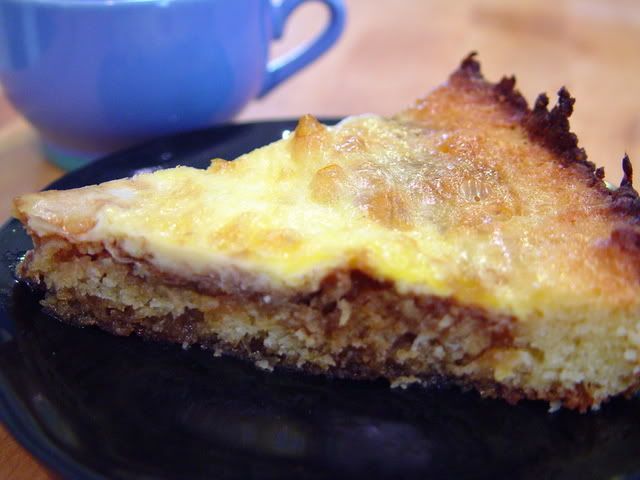 It was, and I can't believe I would ever utter these words, nauseatingly sweet. One small slice and I felt blechy. I might try it again with some toasted walnuts to add texture and dilute the sweet.
Still though, it's not what I was hoping for. Would you mind sharing your recipe? That bread looked so light and delicious.
Thanks.
AM

PS Here's the recipe for the one above, if anyone's interested. I can see why people like it, just not my taste.
The recipe for this "sugar tart," a Belgian classic, comes from Auberge du Moulin Hideux. Similar to a rustic coffee cake, this treat is lovely for brunch or as an afternoon snack with coffee or tea.
Servings: Makes 10 to 12 servings.
ingredients

1 1/2 cups all purpose flour

1/4 cup sugar

2 teaspoons dry yeast

1 teaspoon grated lemon peel

1/2 teaspoon salt

6 tablespoons (3/4 stick) chilled unsalted butter, cut into 1/2-inch pieces

1/4 cup whole milk

3 large egg yolks

2 large eggs

2/3 cup whipping cream

2/3 cup (packed) dark brown sugar
preparation

Butter and flour 9-inch-diameter springform pan. Mix flour, 1/4 cup sugar, yeast, lemon peel and salt in processor. Using on/off turns, add butter and blend until mixture resembles coarse meal. Add milk and 3 egg yolks. Using on/off turns, blend until soft dough forms. Using wet fingertips, press dough over bottom and 1 inch up sides of prepared pan. Cover tightly with plastic and let rise in warm draft-free area until light and puffy (dough will not double in volume), about 2 hours.

Preheat oven to 400°F. Whisk 2 eggs and cream in small bowl to blend. Sprinkle 1/3 cup brown sugar over bottom of tart. Pour cream mixture over. Sprinkle with remaining 1/3 cup sugar. Bake until dough puffs and browns and filling browns in spots, about 25 minutes. Transfer to rack. Cut around pan sides to loosen tart. Release pan sides. Cool 30 minutes. Serve warm or at room temperature.
Makes 10 to 12 servings.