Please educate me on range hoods!
I'm having custom cabinetry made and my cabinet maker says he can build a wood cover to go over my range hood but that I first need to give him the specs for the "guts" of the hood. Who knew this would be so complicated?
First off, I'm on my own here having fired my builder mid-way thru my build. It's a long story but you'll quickly understand why...
My range will sit against an inside wall about 6 ft from the nearest exterior wall. However, my stupid builder ran the vent duct nearly 25 feet (yes, TWENTY-FIVE FEET) to another exterior wall altogether! Why? Because instead of using open-web trusses between my two floors as indicated on my plans, he decided to save himself some money by using i-beam trusses which he ran parallel to the exterior wall thru which my range hood should have vented. Then, when it was way too late to replace the trusses, he apparently "discovered" that he could nor cut holes thru the i-beam trusses large enough to accomodate the vent duct without compromising the structural integrity of the house! So, ex-builder ran the vent duct 25 feet to the next nearest wall instead! GRRR.... And that was just one of about a hundred things he screwed up before I finally got fed up and fired him.
But to get back to the issue...
I've selected a 30" wide freestanding gas (propane) range. (Kenmore model 77489) with 53,200 BTUs total. I've read that you need a vent that will draw about 10CFM for every 100 BTUs so that would work out to about 550CFM IF it weren't for that 25 ft long duct. On the plus side, I know I won't EVER use all the burners at once however. I'm a decent cook but no Julia Child and beside, most of the time I only cook for DH and myself and since we're both on low-fat diets, I almost never fry anything.
I think the vent duct ex-builder put in is an 8" diameter piece of flex duct. It might be 10 inch diameter. (I need to go measure it to be sure.) I do know that, except for a 90 degree turn at the ceiling, it runs straight.
My original plan had been to get a custom copper hood but that is totally out of the question now b/c my budget has been so totally blown fixing (or trying to fix) all the issues my ex-builder saddled me with.
Plan B is to have a wood hood made to look something like the one in this pic: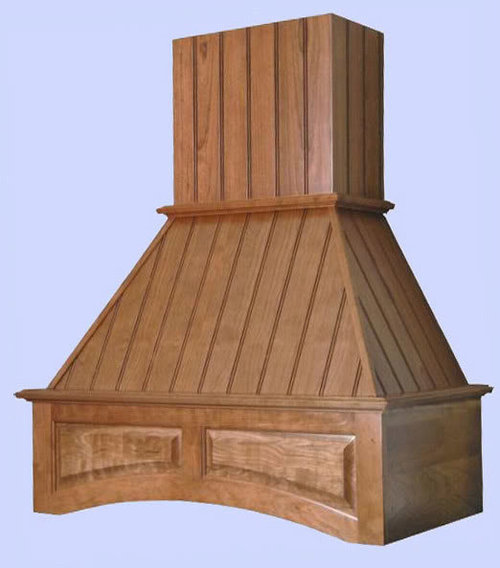 My cabinet guy says he can build a wood surround but he doesn't really know what to advise me to get in the way of "working parts". Help! I need to keep the cost down as much as possible. Any experts out there willing to give advice?
Model names and numbers that would be appropriate in my situation would be really nice.
Many thanks. Gardenweb is the only thing that has kept me half-way sane throughout this whole build.