How do YOU crack eggs?
I have small hands and no tricks. I'm concerned about cross contamination. Before I start cracking eggs, I pull the garbage pail over and uncover it. Then I hold an egg in one hand, rap it on a sharpish edge, usually the rim of the bowl, then use two hands, thumbs to the crack line, to open it. I do occasionally get a drip down the bowl, or get my thumb into the egg badly enough to wash before the next egg, but most of the time it works fine. I separate old style, moving the yolk back and forth between shell halves, and letting the white run off. If the shells are too thin, or I have dozens to do, I use an spoon style egg separater. I never gave it detailed thought before I saw this on Pinterest. Methinks Rube Goldberg was involved...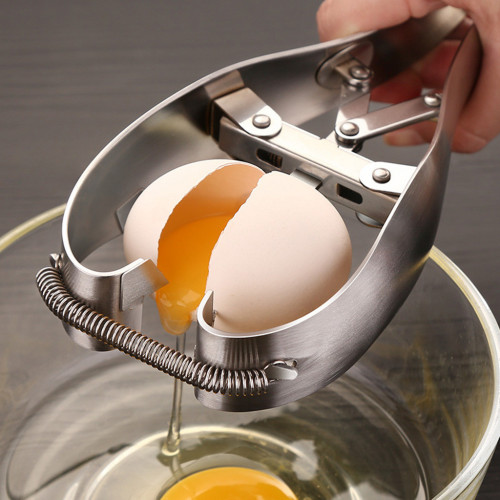 Get the eggs ready and take out the egg opener.
Put the eggs into the product and hold the eggs firmly.
Hold the handle tightly, automatically open the egg and separate it.
Sow and shake gently to drain the egg.
Take out the shell.