Sunday's project: Pickled Mustard Seeds ala sleevendog
Elery just loves these, and since I was getting together tax information and had to be home anyway, I decided it was a good idea to make a batch of Sleevendog's pickled mustard seeds. It's really easy, although it takes a couple of hours, most of it spent "soaking" on the back of the stove.

I like mine pretty thick, more spreadable than spoonable, and a cup of mustard seeds along with 1 1/2 cups each of water and vinegar, 1/2 cup of sugar and a tablespoon of salt resulted in this: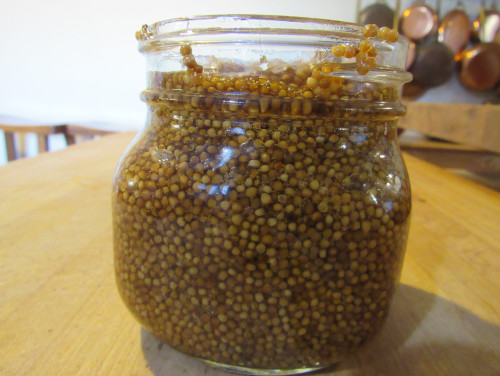 It's nice and thick and mounds up on the spoon when I dish it out. The little seeds pop when they are eaten, kind of like caviar. I was hoping to have it for dinner with tonight's pork chops, but I didn't quite have it done, but it keeps nicely in the refrigerator.

And I still have enough mustard seeds for one more batch.....

Thanks again, sleevendog, for a great recipe.

Annie