Crockpot Chicken Marbella
Chicken Marbella is a classic chicken recipe from the girls at The Silver Palate. It was my first "gourmet" cookbook and I've made it a lot over the years. The ingredients are very different and would not seem to go together but they do! The other day I found this crockpot recipe for the dish and I made it today because I was very very busy and something simmering in the crockpot while I painted the porch railings, sewed a Halloween costume, and changed out my flowers from summer to fall was perfect. I think it was as good as the original!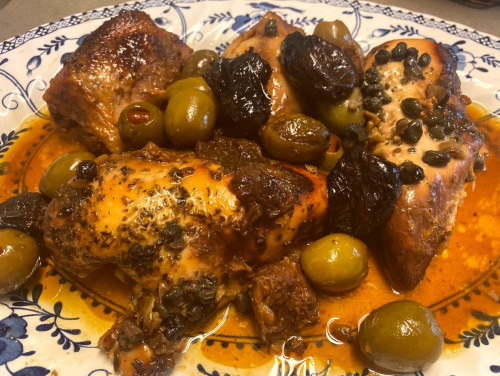 CROCKPOT CHICKEN MARBELLA
8 pieces of chicken (you can use all breasts, a whole chicken, or all thighs or legs)
4 cloves garlic, chopped
1 T. Italian seasoning (a new staple in my larder)
¼ c. olive oil
¼ c. white balsamic vinegar
1 jar capers, drained
¼ c. maple syrup
⅔ c. jumbo raisins or prunes*
1 jar Spanish olives stuffed with pimento, drained
2 bay leaves
Place chicken in slow cooker.
Add remaining 8 ingredients with the chicken
Cover and cook until the meat is tender and cooked through, 4 - 5 hours on high, or 7 - 8 hours on low.
Gently transfer chicken to serving platter.
Top with raisin or prune//olive mixture and any remaining juices from the slow cooker.
Garnish with parsley.
*the original receipt used prunes and I did too. But raisins will work if you don't like prunes or don't have any in your larder.