I like Container Gardening....can I still Winter Sow?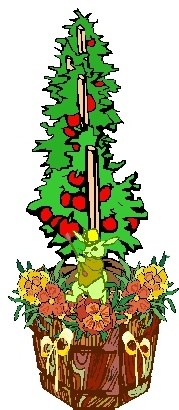 Yes you can.....and this can be LOTS of fun!
When should I sow the seeds? I've got barrels and other planters.
If you can get them sown right before the soil in them freezes hard for the Winter you'll be doing just fine.
My planters have already frozen! What can I do?
This is easy too. You simply need a bag of room temperature potting soil. This is how you do it:
Go to your frozen planter. If your seeds are very tiny (the type that don't need to be covered and just patted into the soil surface) you have to put a layer of potting soil on top of the frozen soil in the container, an inch thick layer of potting soil is just fine. Sprinkle your seeds onto the surface of the potting soil and pat them in firmly with the palm of your hand.
If you've got seeds that need to be covered it's just as easy too. Sprinkle your seeds on top of the frozen soil in the container and then cover them with the potting soil to the correct depth, firmly pat the soil down with the palm of your hand.
There's no need to water the seeds in the containers as Mother Nature will provide rain or snow. If your container is in a sheltered location you should give it a light drink of water.....use a watering can that has a sprinkler nozzle on it....you don't want to water them with a hose that gushes out a stream of water, it will dislodge the seeds and move them all about from where they've been sown.
Here's a few suggestions for pretty annual combinations, you can come up with your own combinations too, choose flowers or veggies that you love and you'll be happy:
Dark blue bachelor buttons in the middle of the container and trailing nasturtiums for the edges.
Melampodium in the middle and purple alyssum around the edges.
Tomatoes in the middle and short basil or marigolds for the edges.
Cosmos in the middle and candytuft for the edges.
Mini-gourds or tiny pumpkins for the center (with a trellis or stake for them to grow on) and signet marigolds for the edges.
The Three Sisters: A few seeds of early corn, a few seeds of small gourds, pumpkins, or squash, and some bean seeds....vining or bush, both are okay. (If you're interested in learning about Native American Culture a Three Sisters Garden is a wonderful beginning!)
There's as many combinations to sow as you like to invent or can think of, there's no right or wrong color grouping. Some folks love soft pastels and some like hotHotHOT colors.
You can sow perennials in containers too, it's all up to you!
Trudi