Making and Sowing Flats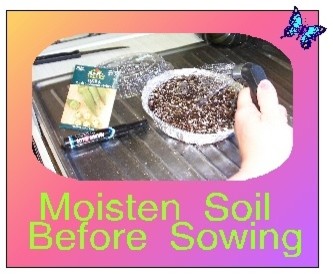 To make a flat you take the foil container (of course it's clean, washed in hot soapy water) and a paring knife. Stab a few slits in the bottom of the pan, this is for drainage. Now fill the pan with soil to about a half inch from the top. Give it a real good drink and let it drain. I do this in my kitchen. (I have a sprayer on a hose at the sink and I use this for the watering, works well and doesn't gouge out holes in the soil). After the pan has drained sow your seeds and pat them down. Cover them with more soil to the correct depth if necessary. I like growing plants with tiny, tiny seeds, they're really just the very most easiest to sow. Sprinkle them on top of the soil, pat them down, and that's that.
Now you need to put the lid on BUT FIRST.........and this is the very most important step.......take the knife and poke several slits in the clear plastic lid. This is for air transpiration. Think about it, you're making a little mini greenhouse. If you don't vent the air that is heated by the sun you'll cook your flat and the seeds won't germinate. You've baked them to death. Okay, put the lid on secure by folding down the foil rim. Now the seeds are sown.
For more flat suggestions read the FAQ called "Poster Suggestions for Flats to be Made from Recyclables"
Thanks,
Trudi