Scarecrow Card for Autumn
I copied the images from the DLTK site below, then manipulated them as necessary.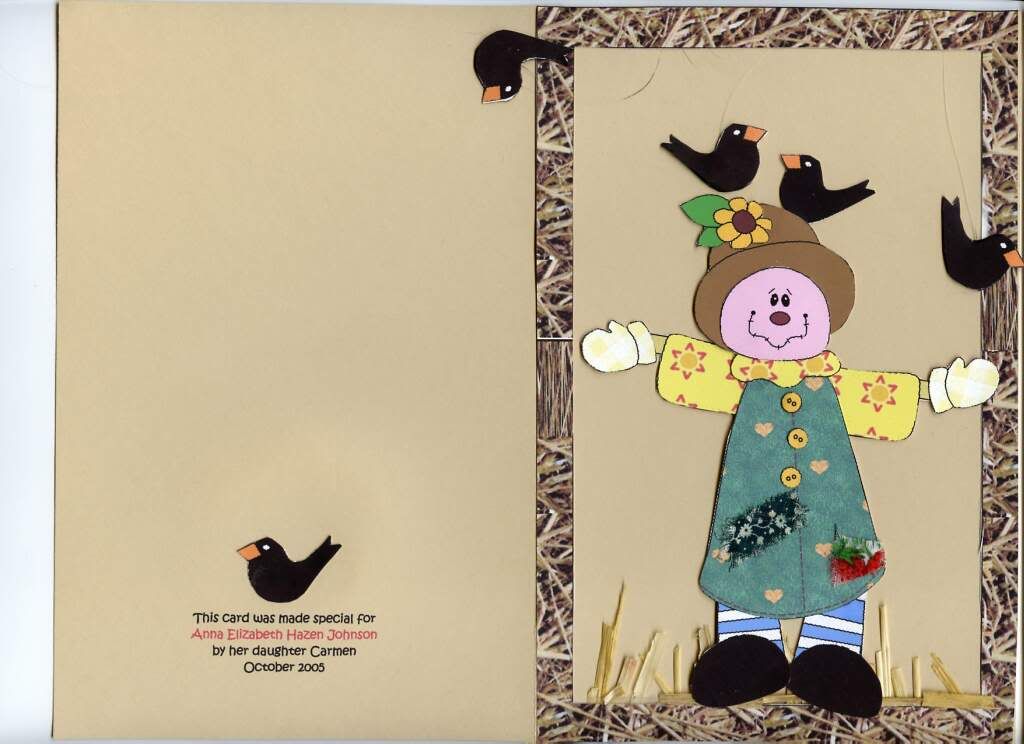 Card Back and Front
Card Verse
When I cut out the scarecrow's arms, I left them as one piece, then used an 'eyelet' to attach them behind the front so the arms can wigwag. (The eyelet is hidden behind the top button.)
I added small scraps of frayed material instead of using the printed patches.
I made lots of extra crows, sandwiched a piece of invisible sewing thread between each pair, using both double-sticky tape to hold the thread, and glue for the remainder of the birds.
I outlined the frame on the backside with double-sticky tape, then put some straw scraps (from and old wreath) at the bottom, and the crows' threads at the top. The crows move when the card is held upright, so it looks like they are flying.
I used little pieces of foam behind the scarecrow so it would stand out a bit from the card, making it easier for the arms to wave. (I used little bits of foam packing pellets that look like figure 8's.)
Hope you are inspired by this card. Be sure to check the DLTK site if you aren't familiar with it... lots of goodies there!
Here is a link that might be useful: DLTK's Scarecrow Paper Craft