Started My Organic Lawn Care 100% Today! Bermuda TIFWAT419
TIFWAY419*
Hello Everyone, I've been reading these forums for about 3 months (signed up a week ago), and have been inspired to go 100% organic for my Lawn in Shawnee Oklahoma 74804. WHY? I have 2 kids, 2 dogs and 2 Guinea Pigs that I love more than a green lawn with chemicals.
Basic Info ~ I purchased this home in Feb 2013 (built in 2006). I'm unaware of what the previous owner did in the way of lawn maintenance. I have done the "Mud Test" to verify it's a heavy clay soil, and when dried, the dirt is cement. I'm also 85% sure I have Bermuda (TIFWAY 419) in my lawn. I haven't done an actual soil test yet...
What I've been doing the past 5 months with chemicals~ I sprayed my yard with a pre-emergent in late march. I applied Scott's MAX green on April 1st and again on June 1st. Mowing the lawn at 2 inches with a mulching rotatory mower every weekend. Watered lightly every 3rd day or more when temps reached 70F or more.
What I see as problems ~ Besides the clay/watering/mowing/fertilizing/chemical bath problems I mentioned above. The yard has nut sedge and crabgrass. The yard has bumps and dips causing my mower to jump and dip some.
What I've started doing~ Hand pulled ALL the crabgrass, and pulled a lot of the nut sedge. Began mowing 1 click lower every 3-4 days. When I reached the 1 inch mark (second to the last setting) I had a Golf course looking turf!! I decided the lowest setting would look even better! Dropped it to the lowest setting and basically scalped the whole yard (picture is a few days of growth after this mowing).... The little strip of yard I have was horribly bumpy, so I purchased some cheap topsoil from Lowe's and dragged a pallet over the top to level it out (Seen in the left side of the photo) I purchased and applied a commercial compost tea, and a 50lb bag of Soy Bean Meal (livestock feed). Raised the mower back to the 1inch mark and haven't watered at all.
Future plans ~ I plan to mow 2 times a week at 1 inch with my rotary mulching mower. Apply SBM every month on the 1st. Water deeply and only when needed. Hand pull weeds as they pop up. I haven't found any Corn Gluten Meal locally, but plan to apply it next year as a pre-emergent/fertilizer.
I would love to hear any criticism, suggestions, ideas or complaints about my lawn care. I will post pictures ASAP.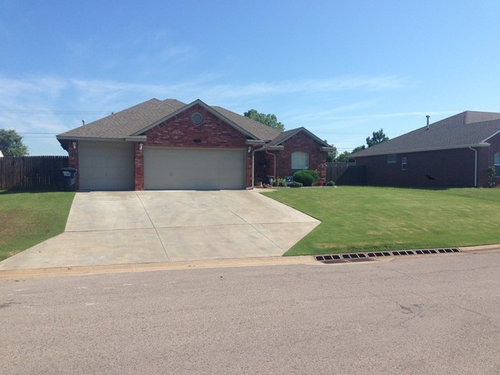 This post was edited by Redtenchu on Fri, Jul 26, 13 at 19:27