HAVE: Spring Swap Date - 6/20
The smell of spring is in the air! Time to get together again for another spring swap.
Where: Ying aka joyfulsnowflake's neighborhood community center in Woodbury
When : Saturday June 20th at 11:00am

(Note, this date can be changed to 6/7 if wanted. On 6/7 the inside of community center is open 12:30-6pm. On 6/20 it is open 10:30-6pm. We can use outside any time. I've reserved 6/20 for now.)
Please bring something for the potluck. We'll be eating first and have the swap after lunch. (If we want 6/7, then we will have swap first, then eat)
For those of you who haven't attended a swap you may want to bring:
* plants potted and labeled.
 Paper & pens ready (for notes on plants, and for future trades when the plants get large enough to divide again)
 a box or wagon to put your new found treasures in
* sharpie and labels
* garden books to swap or share
* pictures of your garden
* all your empty plastic garden pots
The plants can be unloaded on the patio or lawn behind the community center.
The swap goes like this:
First, everyone goes around and give a BRIEF description of their offerings plants and other garden related objects.
Then we will begin rounds
Round one - everyone pick one plant.

Round two - pick 2 plants- but not of the same type

Round three - pick 3 plants but not of the same type
As interest wanes, people can take what ever they may like.
People need to bring all "Unclaimed" offerings home with them at the close of the swap.
We can not leave any trash at the center. I put down a $250 deposit for it.
I will send out an email to everyone that posts below with directions, etc about 10 days before the swap. Hope to see you all there!
Ying
Here is a picture of the back of the community center. If weather is good, we can sit outside to eat.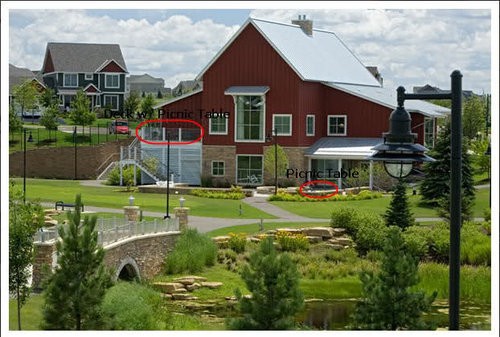 Northern Virginia, Baltimore & DC Metro's Closet Organization Company