Starbuck's Gingerbread Loaf -- faux edition
I absolutely adore Starbuck's Gingerbread Loaf. From the first time I ordered it, I was in love! I've even been to known to buy whole ones (we live at least 35 minutes from a Starbuck's -- which perhaps is good (BIG GRIN).

I've looked at "copycat" recipes on line but the interesting thing is that they're all different -- sure they all have applesauce, sugar and flour and eggs and orange but then the similarities end. Some have ginger and all of the "pumpkin pie" spices, others have just cinnamon and cloves and ginger. And most had cream cheese frosting.

I found the Starbucks website, wrote down the ingredients listed and came up with a recipe for a loaf that I thought was really good. I didn't put the candied peel in it (it's expensive and if I had to throw it away . . .) but I will next time. Now I won't have to drive 70 miles (round trip) for a slice of my favorite fall cake.

Oh, and it's not a gingerbread at all -- there is NO ginger in it! It's an orange applesauce cake. Go figure as to how they can call it gingerbread!!!! But it is good.

Even though all of Starbuck's noshes are made at a factory in Texas and shipped to the individual units, I find that they are all good -- but this gingerbread loaf is my favorite!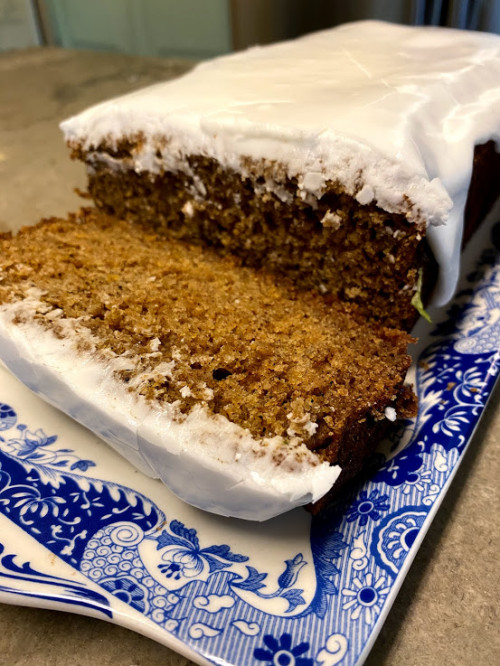 LINDERHOF'S STARBUCK'S GINGERBREAD LOAF

1 1/2 c. flour
1 c. sugar
3/4 t. salt
1 t. baking soda
2 t. cinnamon
3/4 t. cloves
1/2 t. dry mustard
1 t. baking powder
2 eggs
1 c. applesauce
1/2 c. butter at room temperature
zest of 1 orange
2 T. orange juice

FROSTING:

1 egg white
3/4 c. powdered sugar
1/2 t. lemon juice
1 t. corn syrup

Mix butter and sugar together. Add eggs. Mix flour, salt, baking soda, baking powder and spices. Add to butter/egg mixture. Add zest of orange and orange juice and stir. Add applesauce and stir. (This is the point I would add the candied peel). Pour into a 9 x 5 loaf pan and bake for 50 to 60 minutes in a preheated 350 oven.

Cool then frost

Take egg white and beat in the bowl of an electric mixer with the whisk attachment until stiff peaks form. Add lemon juice an beat again. Add corn syrup and beat again. Frost cooled cake.