Tuffy Update...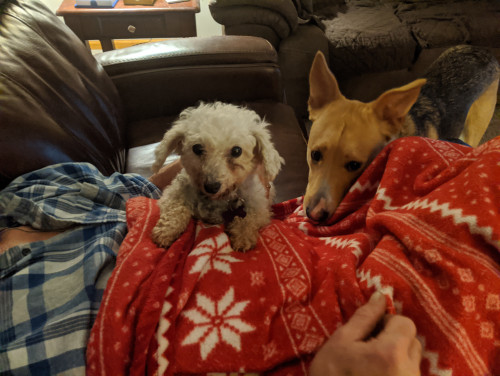 I really can't wait to get her face cleaned up so she doesn't look so ratty! lol
This was another first - she "snuggled" with her new dad for a while. I sat on the other side and petted behind her ears and whenever I would stop, she'd turn around and look at me. Definitely progressing in learning to like to be touched.
She went to the vet this week. She has an ear infection and some bad teeth. He thinks her discolored paws are from licking, although we've never seen her lick herself at all. But maybe she did it from boredom in her previous caged life? I'm anxious to get her paws shaved but when I let her see the clippers and turned them on she ran for her life!
Sadly she has a rib sticking out her side that you can see, the vet said it was a broken rib that had healed that way. It doesn't hurt her now but I can't imagine the pain she must've felt for a long time after someone broke it.
She had a big adventure last week - she got out thru a hole in the neighbor's fence that lines our yard! My husband has been replacing their slats as they break, but not in the winter. I was afraid we'd never get her back - but an hour's worth of prayers later she was found in someone's garage!
I have a coat that velcros around her and only put it on her when she goes outside. She loves it! Now she's starting to sort of stop running away from me when she sees the coat. Baby steps!