Top 10 Reasons That Show You're Addicted to Winter Sowing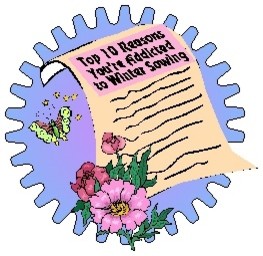 Winter Sowers are some of the most creative people I've ever had the chance to know. This list was posted to the forum on Wed, Apr 23, 03.

I would like to thank April_50 for sharing her great list for this FAQ.
Top 10 Reasons That Show You're Addicted to Winter Sowing
10. You keep receiving "Get Well Soon" and "We Miss You" cards from the local Nursery due to your absence.
9. Your family's diet now consists of the 4 basic food groups of Winter Sowing; large containers, medium containers, small containers and soda bottles.
8. You are able to leap tall buildings in a single bound, just to catch the perfect container before it hits the trash basket.
7. You have caught the meter reader, the mailman and the paperboy peering into your containers looking for sprouts.
6. The stock boy at WalMart's is off on sick leave due to the hernia he received while loading your potting soil.
5. Every time you see a sprout and do the "Happy Dance" dogs run for shelter, children roll on the ground in fits of laughter and passerby drive off the road.
4. The neighbors recognize your backside before they recognize your face because you're always bent over peeping into milk jugs.
3. The decline of the stock market and the slow economy can be directly traced back to Winter Sowers not spending huge amounts of money on seed starting paraphernalia and plants from Greenhouses.
2. You have decided to name your next born "Trudi", even if it is a boy.
1. And the #1 reason you know you're addicted to Winter Sowing is that you have dirt under your nails, a smile on your face and money left over in your wallet!
Hope you enjoy this.

April
==================================
Thank you again April for sharing this list with us....you're fabulous!
Trudi
PS....I like reason number 2 the most!