The wind blew off the cover and I can't find it.....oh no!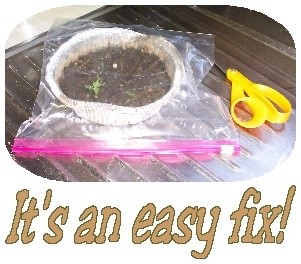 Don't fret! You can make a new cover in less than a minute!
Take your flat and slip it into a baggie or zip bag. Close the baggie with a twist tie or knot, or zip the bag shut. Take a paring knife and make a few slits in the bottom for drainage and make some slits in the top for the air transpiration too.
If you use a ziploc bag you can keep that zipper open a bit and make just a few slits to the top for air transpiration. Easy!
Trudi