Winter Sown Vegetables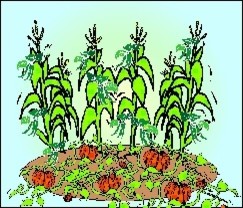 Corn, Beans, and Squash
Winter Sowing is fabulous for starting veggies. I've always had problems with direct sowing veggie seeds....the
seeds get eaten by birds or critters, or they either dessicate or rot in the soil, or bugs eat them, or there's insufficient germination (for whatever else reason) so I tried doing veggies last year and it WORKS!!!!
Some good choices are:
Allium family (onions, shallots, garlic, chives)
Artichokes (zone seven and warmer)
Beans
Beets
Brassica family (cabbage, broccoli, kale, collards, etc)
Carrots
Celery
Celeriac
Chards
Corn (select an "early" type as it can germinate at lower temps)
Curcubit family (cukes, squash, pumpkins, melons, gourds)
Herbs (edible and ornamental)
Lettuces
Nightshade family (eggplant, tomatoes, peppers, potatoes - from real seeds....not "seed potatoes" ;-)
Oriental veggies (any)
Parsnip
Peas
Radishes
Spinach