How do I get rid of slugs?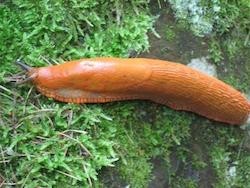 Image by: kathsgrdn
Red slug
Use several methods to lessen their effect in the garden. Use beer traps to kill a few, use a wood board placed on the ground, in the daytime overturn it and squash the buggers. Use a flash light at night and hand pick them off and drop into soapy water. Other methods are installing copper edging, using materials around the plants that discourage them getting close, such as roofing shingles.
Hand picking at night & dumping in a cup of salt water is very satisfying, but exhausting!
Ammonia and salt both work, but I found a more natural solution. Very hard to do at first. This year I did not kill my snakes and slugs are down 90%, as slugs are one of the favorite foods of snakes. Just have to take it easy if you weed, run a stick around first, give Mr. Snake a chance to leave.
I use copper tape and it works pretty well but not 100%. The tape needs to be at least a couple inches wide & to cover any possible entry into the area you are protecting. This works well with container planting but less well with beds. If even a couple slugs (or eggs I guess) are already inside the taped area before you apply the tape they are of course unaffected--except they can't get OUT! Also after awhile the
tape gets dirty & is less effective. That said, it has worked well for me on both pansies & sweet peas in containers when nothing else seemed to work, and the beauty
of it is they just GO AWAY rather than leaving the goo you get with some other methods.
I had a problem with slugs for years in my shade garden. I finally used diatamaceous earth this year and the problem is all but gone!
I use Bug Geta Snail/Slug bait by Ortho. It is in a granular form that you spread around the plants you are trying to protect. Every two weeks should do it. Since it is brown in
color, it's not as unsightly as D-earth.
I have a problem with slugs, but I won't spray toxic stuff. So far I've just been removing lower leaves that touch the soil to prevent the sort of moist environment slugs love. It definitely helps a bit
A hosta-loving person from TN said "A few hostas have been identified as slug-resistant - Sagae, Elegans, Sum and Substance, and Blue Angel. But to protect the others, he goes hunting at night (when slugs are most active) with a flashlight and a squirt gun filled with a solution of 25%
ammonia and 75% water. One hit and the slug is history".
The ammonia approach requires a "search and destroy" mission to be effective, and only gets the ones you see and spray. Not that I haven't used it from time to time with some sick glee!
You need only a splash of ammonia with a quart or gallon of water. I also put in a small amount of mild liquid soap. This kills 'em but the baby slugs will live. It's hard to get to them where they live in the mulch.
I vote for the EscarGo which I have used with as good of success as Metaldehyde (the active slug killing ingredient in most slug bait, including GetaBug). EscarGo is harmless to all creatures except snails and slugs. Metaldehyde, even in small doses causes kidney damage and ultimate death in pets and kids. I was a vet tech for many years and we if we didn't lose the animals right away after ingestion of the poison they ended up dying years earlier than they should have because of severe kidney damage.
From our GardenWeb members