My mom passed away on November 30th...
Hi...
I am new to this forum...and new to this "journey"...
I am an adult only child ( 40 years-old; I am divorced with one daughter. My mother and I were VERY close and I am not handling her death well, at all. She was 65 years old when she passed away, three weeks ago, on November 30, 2012 at 11:30 am.
At times, I wish the world had ended yesterday so that we would be reunited and removed from this evil world.
My mother found out that she had a very rare form of cancer (duodenal cancer)....when it was discovered, it was already at stage 4- which is typical for this particular cancer--it is very aggressive. After finding out about my mom's illness, I suspended all work to help my father care for her. I did everything for her...anything she needed, I did...it was the least I could do for my mother. Instead of working, I researched the top cancer hospitals for her specific cancer; looked into second and third opinions; contacted Sloan Kettering in New York and processed all medical record release/authorizations; managed her medications at home; cooked her meals; made sure she ate every 2 hours to avoid nausea; tried to keep her spirits up; posted encouraging messages and healing prayers/ scriptures from Dodie Osteen (Pastor Joel Osteen's mother, who was healed from cancer). Anything I could do to help my mom's struggle, I did. Unfortunately, the doctors who diagnosed the cancer did not recommend waiting before beginning some kind of chemotherapy because the cancer had already metastasticized to her lungs ("too numerous to count nodules in her lungs"), liver, lymph nodes, bowel. So chemo was given for 5 weeks; she had 3 weeks off and was supposed to resume chemotherapy thereafter. However, PET scans showed that the cancer had spread further in her lungs despite chemotherapy. Ultimately, she was "no longer a candidate for chemotherapy" because her body was not strong enough to survive the aggressive chemotherapy that would have been required to attack the cancer. The cancer continued to spread in her lungs and later to her bone.
I watched my mother suffer a constant cough from August until she passed away in November. She had panic attacks (nothing worked to soothe her panic- not Ativan-not Valium..Only clonazepam worked but because that caused her blood pressure to drop dangerously low, she could not even have that medication to help her relax any more. She required increasing levels of oxygen at home...10 liters at the hospital...
On Thursday, November 29th, my daughter---out of the clear blue---develops a fever...and vomiting; I took her to the doctor and found out that she had strep throat...(normally, I would go to the hospital to be with my mother after my daughter was off to school)..but I couldn't go to the hospital that day because I had caught my daughter's illness and didn't want to spread my germs with my mother, in her very fragile state. That same day, Thursday, late afternoon, my mother's condition deteriorated: her blood pressures dropped to 80 / 40, 70/30,...and, her heart rate soared to 225 beats per minute. My dad was at the hospital and called me to let me know what was going on. In the background, my mom was screaming in fear...(I guess the feeling of being unable to breathe combined with a heart rate of 225 explained that)...so, the doctor asked me/ us if we wanted to intubate my mother or not...(previously, our instructions to the hospital---as per my mom's conversation with me, and as indicated in her advanced directive---were FULL CODE...do EVERYTHING you can do to save her life)..well, my mother and I never talked about what she/we should do if the doctors said that 1-she had no more functioning lung tissue; there was more cancer in her lung than there was lung 2- she would have had to be on constant dialysis machines 3-we would most likely have to "turn the machine off" because there was no reasonable likelihood of recovery/improvement.
Well, we never talked about that part, because we believe in miracles...I remember my mom saying (about Terry Schivo's situation: why did they do that? they're not God? How do they know that God would not have healed her?") So,we were not anticipating this to ever be a reality for us. In addition, from the outset, I was (and still am) in complete DENIAL...I thought, "obviously, the hospital has made a grave mistake in confusing my mother's records with someone else"...As my mom's condition worsened, we always tried to remain positive...we prayed for a miracle...but, the miracle never happened...
So, now, three weeks later, even after literally falling out at the "inspection" of my mom's body at the funeral home before her funeral; even after attending her funeral; even after going to her burial and watching the dove release;..even after all of this...I still somehow just CANNOT BELIEVE THAT MY MOM IS GONE...!
I can't ever see this getting ANY better...
I am still VERY grateful that God allowed my mom an extra almost 8 years (after healing her from a serious subarachnoid (brain bleed) hemorrhage in December 2004. Most people don't get second chances after that happens, but my mom did. So, in the midst of my grief, I have to remember that her life could have ended 8 years ago....this doesn't help me miss her any less; nor does it ease the pain from memories of seeing her in distress and discomfort; watching her suffer...
So, I know that losing a mother is not easy...but I guess I'm just wondering if others have any suggestions for going through "the stages of grief"
[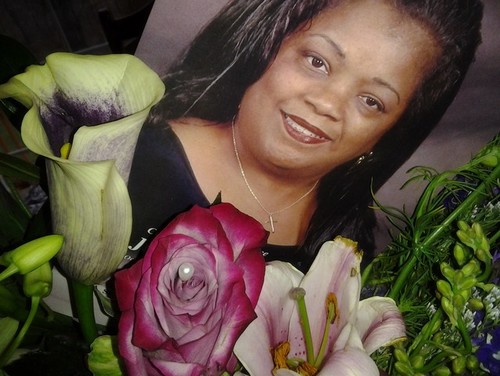 ](http://ths.gardenweb.com/forums/grieving/msg122251243903.jpg)