The Allure of "Summer Song" - Is It Worth Growing?
The English Rose "Summer Song" was introduced in 2005. It was never widely marketed in North America and became an alluring rarity, about which there has been much discussion, and expressions of desire to find and acquire on this forum in recent years. The information on HMF describes it as a burnt orange colour which is accurate. It also states that it is a tall grower, 120 cm high x 98 wide, and has a large full blooms with a strong, fruity Tea fragrance.

Interestingly, it appeared at a number of retail outlets here in the Okanagan Valley of British Columbia, along with a number of other earlier Austin varieties this past spring. So, as a matter of curiosity, I decided to grow a plant. This, in spite of the fact that it is not a rose I had ever considered to buy before.

As an aside, my new theory, following the appearance of quite a number of hard to find Austin roses in local nurseries this spring; is that the Austin Company has purposely tried to limit access to its older varieties, perhaps in order that it is to become the sole supplier. My own expectation is that they will release other older varieties in the coming years. Just say'in: that's my theory.

So here are my own observations and thoughts on "Summer Song". To begin with, my plant is grafted, not sure what root stock, but it came from DAR in Texas. This rose is a "DIVA" in the strongest sense of the term! It has grown fairly well in the pot in which I planted it, but that with daily drip irrigation and regular doses of fish fertilizer over our long, hot dry summer. Admittedly it is in a very exposed location.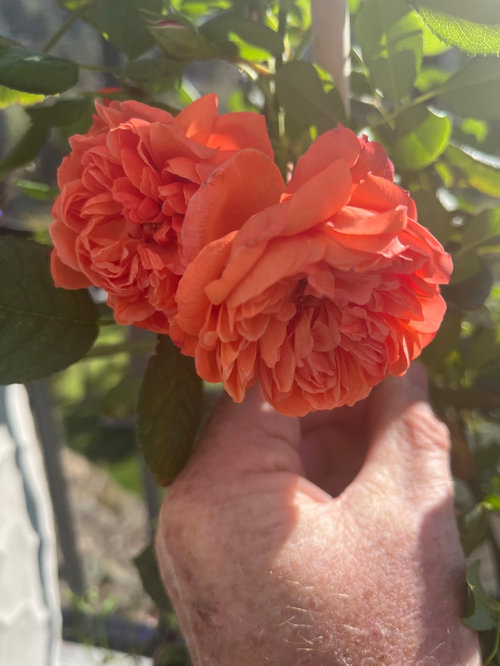 It produces small blooms in clusters, perhaps 3 cms across, with a light fruity fragrance to my nose, Burnt Orange, definitely. A very unusual colour, it almost looks like the blooms have been painted with a matt coating of bright orange chalk paint to my eyes. They almost look a bit artificial. Very unusual and interesting both.

Admittedly it is only ending it's first year with me, but thus far, it is about 30 cms high and perhaps 25 cms wide. It is a lovely little potted rose, "now that it is fall"; and covered in buds now that the temperatures are in the high teens to low twenties Celsius. These most recent blooms have lasted for several days. It reblooms in fairly frequent flushes, though not continuous. It has grown bushier over the season as well. However, when the temperatures were in the high twenties and thirties, the blooms were very small and burnt to a crisp in a matter of hours as the buds struggled to open. So my own observation, is that this is a plant that needs high culture, even codling, lots of moisture, fertilizer, and does not like hot sun or wind at all! It is likely suited to a cooler, moister climate and would benefit from a protected location with only morning sun before the hottest part of the day.

Bottom line, a delicate little curiosity of a plant. Her next challenge will be to see how winter hardy she is here in zone 6a. I do hope that she survives so I can continue to grow and trial her.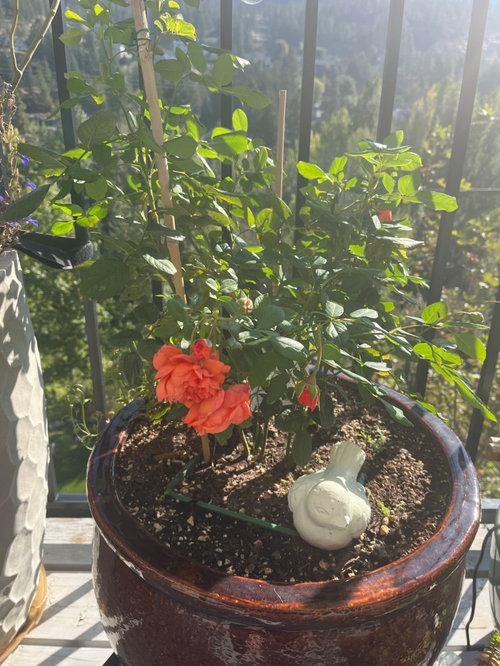 End of Report,

Cheers, Rick

Planning Your Outdoor Space in Loundon County?