How to save my retro pink bathroom from an awful "Landlord Special"?
Strap in friends, I'm in dire need of assistance! I live in a 1940s/50s era townhouse that has much of its original charm, My issues come from the "updates" my landlord made before I moved in.

The upstairs bathroom has much of its original tile (pink and cream), but it hasn't been maintained well or fixed with any sense of care. The biggest challenge I'm facing is the "updated" vanity, cabinets, and countertop. It looks like the install was done as cheaply and quickly as possible (drawers sit crooked, doors don't hang right, that brown plastic countertop, the grey caulking??).
I'm going to be in this home for a while and I want to enjoy it as much as I can. The good thing is that my landlord is receptive to requests for permission to make improvements/changes, so if I were to ask him if I could fix the bathroom (out of my pocket, of course, but that's not what we're discussing haha), he'd likely say yes because once I move out, he'll have an easier time renting the place, and be able to charge more for it.

Here are some things I'm thinking of trying to fix to revive this bathroom and my questions for you (reference photos are below/after the description and questions)...
Replace that countertop!It's so bad y'all; ugly brown, engineered speckles - it was clearly bought because and ONLY because it was on sale. If I don't have the budget to replace the cabinetry/vanity, I at least want a new counter. Ideally, the counter would extend to cover the right cabinet too. I'm aware that historically, the countertop would be tiled in the same way as the rest of the room; I don't want to do that because cleaning tiled/grouted countertops is a nightmare (I have them in the kitchen, I speak from experience - that's another post).
My questions here are: What type of countertop would look good with this tile? I was thinking a quartz in a cream that matches the tile might work, but what do you think? Also, when the counter covers the slightly more shallow right cabinet, should the counter dip in so that the lip is the same depth all around the counter OR should it stay a single rectangle and hang over the right cabinet a bit more than the center cabinets? How much might this cost?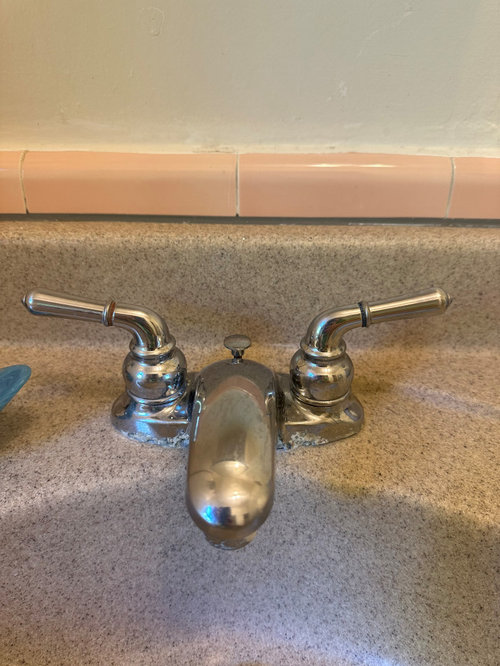 Replace ALL the cabinetry/vanity! Pie-in-the-sky plan would be to tear out all the cabinetry/vanity and put in something new. In general, I like the amount of storage the vanity/cabinets afford, but they feel like they're from a completely different bathroom.
My questions here are: What type of vanity/cabinetry would look good in this bathroom? How much might it cost to replace?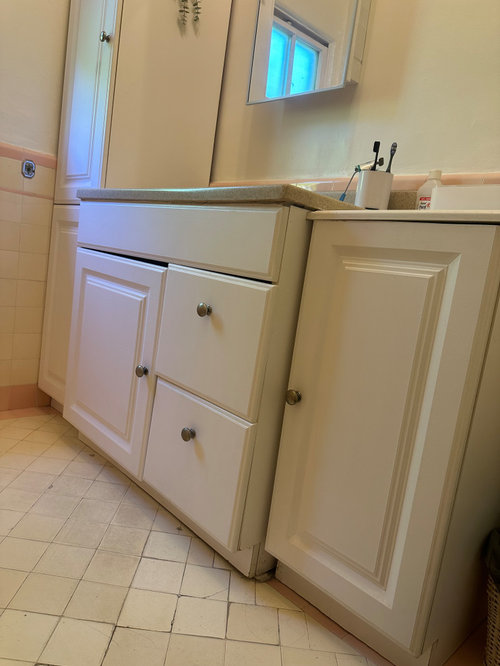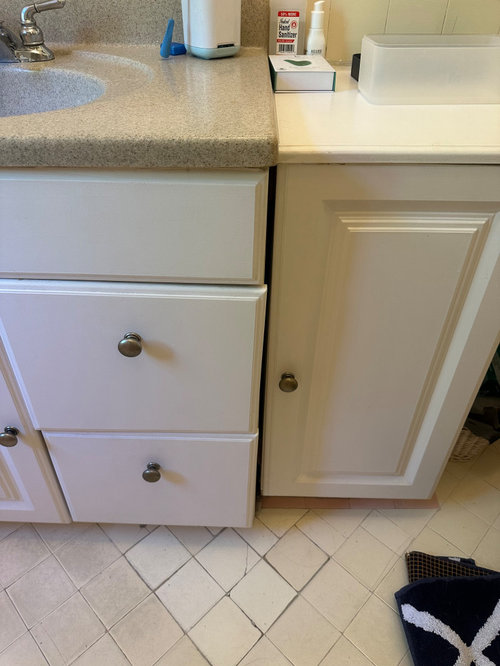 Fix that tile! This is admittedly a lower priority since, even though the tile has seen better days, it's perfectly usable. There are patches that have been "repaired" with mis-matched tile, cracks, patches from where a towel bar was ripped out, the list goes on, it all needs help. I'm familiar with B&W Tile Co., which makes reproductions of the tile used in this bathroom and will go to them for sourcing replacements.
My questions here are:Would I be able to have tile replaced piecemeal where it's needed OR would it be more cost effective to re-tile the entire bathroom? How much would it cost to piecemeal fix tile VS how much would it cost to re-tile the whole thing?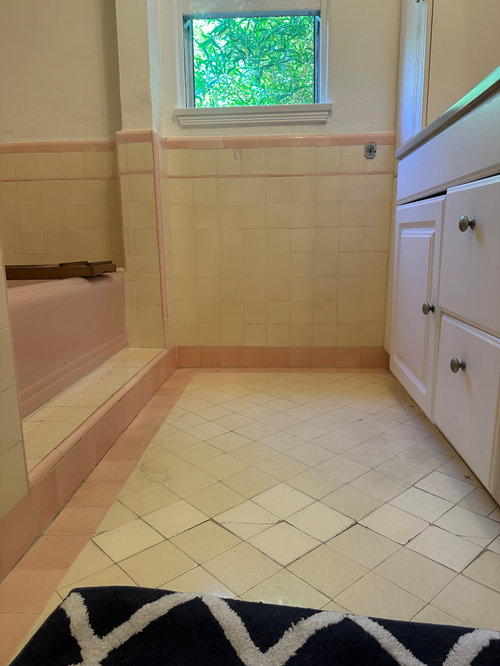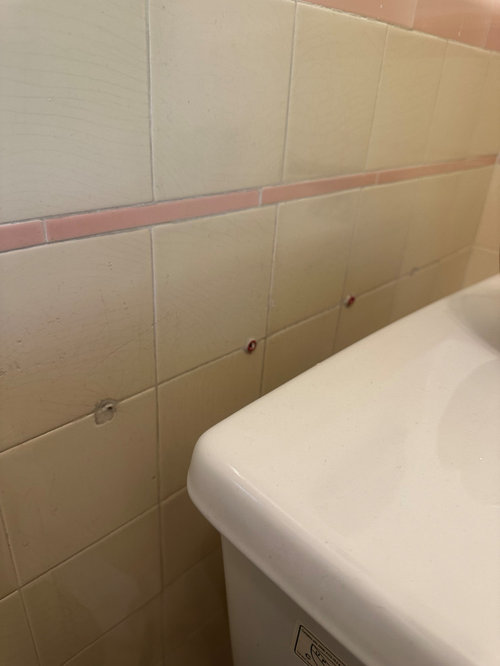 Remove that shower door!I don't know if this shower door is original to the bathroom or was added later, but I want it gone. It feels like it's going to shatter every time I open or close it; I can never get the glass totally clean; the caulk is sloppy and a haven for bacteria now mater how much I scrub and treat; and the grout (cement??) holding it in place is similarly sloppy. I just want to put a shower curtain up and be done with it.
My questions here are: Is removing this door as straightforward as it seems OR will it entail also ripping out the tile it's connected to? What would the process be for removing this door? How much might removal cost VS how much might removal AND re-tiling cost?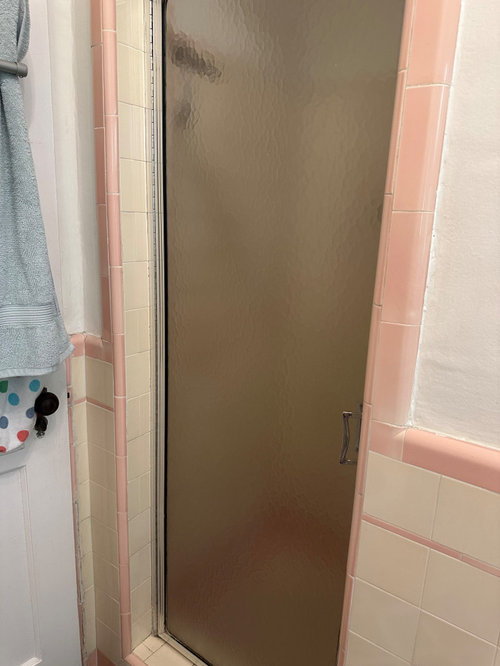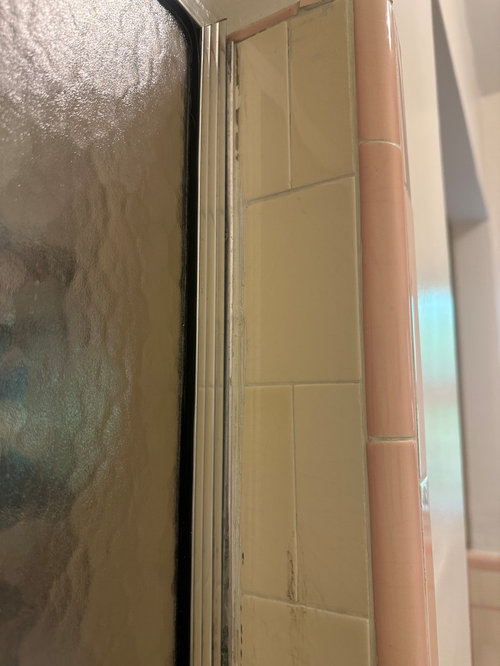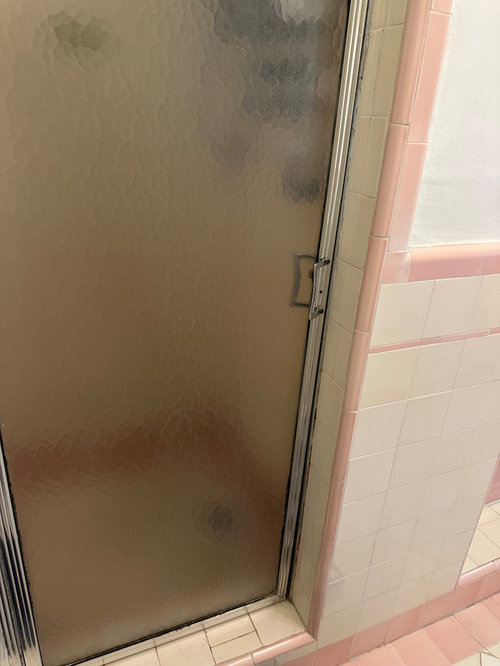 Sorry for the million questions, I'm new to this and would like some un-biased advise from folks who aren't my landlord OR trying to get my business. Thank you SO SO MUCH if you've read this far and thanks in advance for your input!!