Traditional blue paint color for historic living room quandary
Hello,
I am having a paint quandary. I love Louise Townsend's living room and I am trying to emulate the wall color. It is a beautiful historic blue with tones of indigo, yellow, green and blue. In a magazine, "Cook's Blue" by Farrow & Ball was recommended as a close color for her walls. I think Cook's Blue lacks a lot of the prismatic depth of the color of her walls. Here are a few pictures of her room. Can anyone recommend a similar paint color? I will show you, too, what I have come up with for samples so far: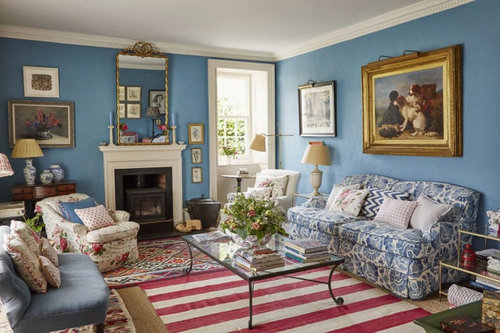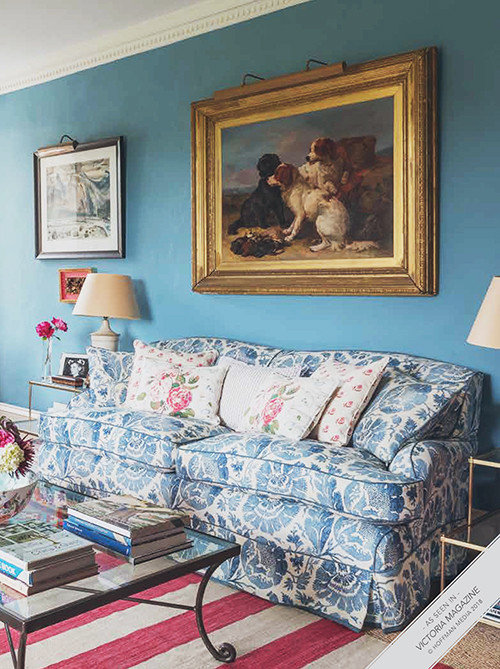 I took the lead of Cook's Blue (Farrow & Ball) from the magazine and began researching similar colors. The closest ones I found were Benjamin Moore's Lazy Sunday, and Behr's Empire Blue. I also looked at Valspar's Blue China (for a dark bright saturated traditional blue); Glass Sapphire (a true indigo); and Sherwin Williams' Prussian Blue for a dark indigo blue comparison. I am not really happy with any of these colors. They don't seem close. My husband is not a fan of any of them.

First, to get the lay of the land, please observe the entry way and the half wall and overwhelming whiteness of everything. Plan is to paint the living room some iteration of blue and the wall over the piano moss green, the dining room through the door by piano lighter moss green.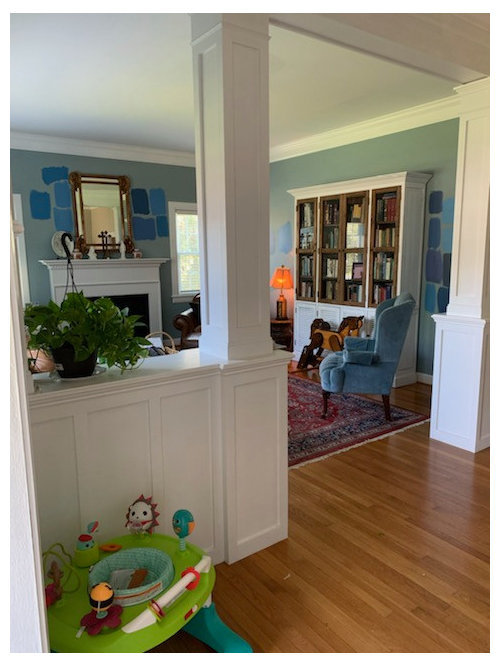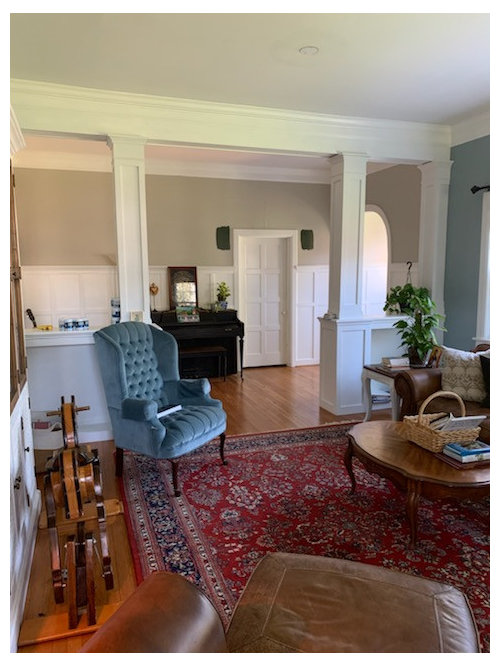 Next, the paint colors (so far).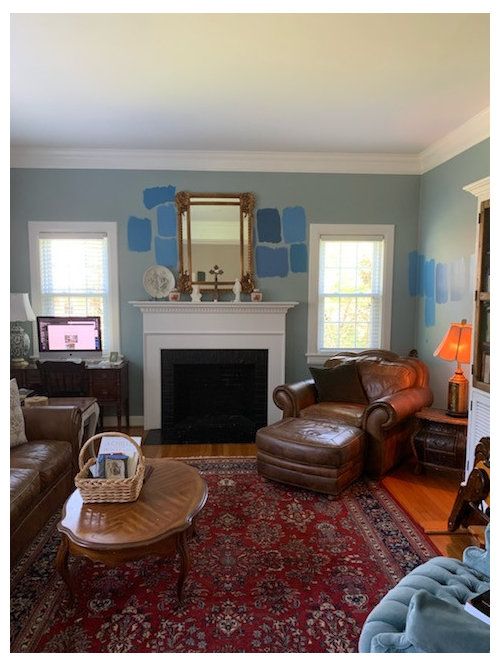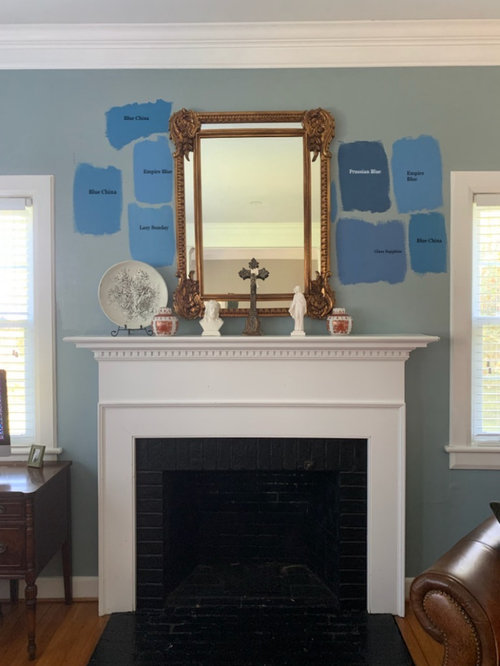 Two other spots in the room: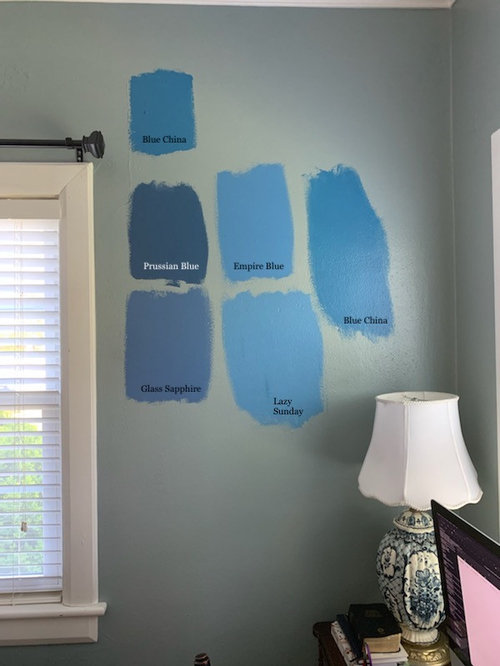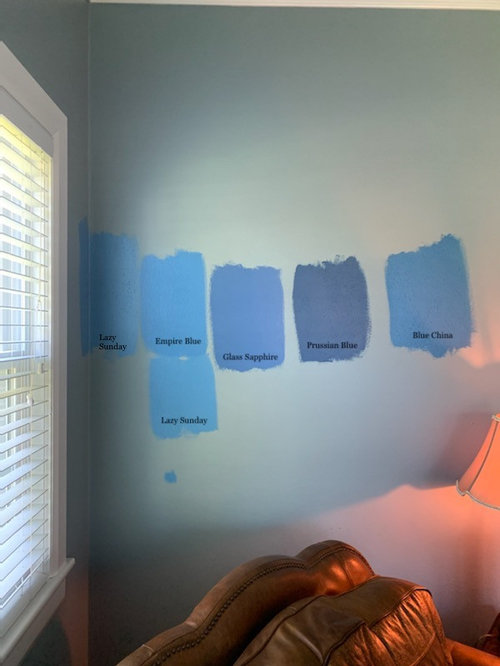 We don't have art on the walls in this room yet, so whatever color is going to seem rather loud for a while. I don't think any of them look as deep or as teal as what I was trying to match. I'm open to any suggestions, but I want this room blue. The current color is close to Aegean Teal by Sherwin Williams. It's beautiful but not as saturated or bright as I would like, because I am trying to balance out the huge amount of white in the living room with the crown moulding, wainscoting and half wall, plus the bookcase (which I am also considering painting). Williamsburg Wythe Blue by Benjamin Moore is a couple shades brighter than the current room color. I am tired of things feeling washed out and wan, but maybe a more sedate color than any I picked is warranted... still blue, but less?

Also, I want something that goes well with Delft pottery/chinoserie. Pictured is the chandelier that we will be hanging eventually.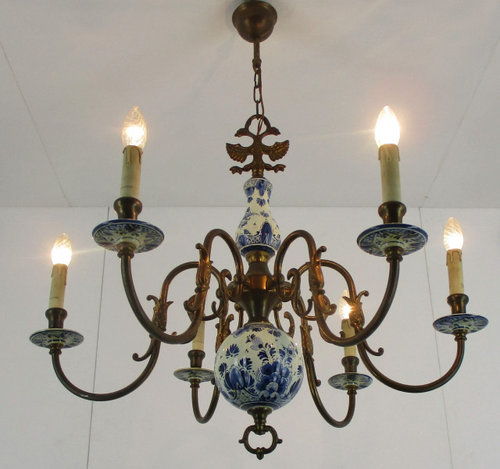 I hope this was as streamlined as possible. If you've made it with me this far, thank you for your interest and helpfulness.