Siding ideas for mid century modern that's been "updated"?
We recently purchased a 1950's architect designed MCM house in central New York that is largely original on the interior, but has received some serious updates on the exterior. The original siding was vertical 1x3 wood -- I'm guessing it was natural, but it has been painted white for quite a while. At some point the flat roof and the upstate winters motivated the previous owners to add a peaked roof to the main house and garage. Hard to throw too much shame and blame on them as the winters here can be brutal. There are signs of previous water damage on the ceilings, but the new roof seems to have solved the leaking. They did follow the original angle of the old roof over the vaulted living room, so some of the original lines have survived. They also kept the original window sizes and the front door is still the wavy glass from the period. However, they used narrow horizontal vinyl siding to fill the new spaces, which looks really odd to us. The old wood siding is looking pretty rough, so we would like to have the place resided.

If we had an unlimited budget we'd tear off the peaked roof, do new hi-tech flat roof and use new vertical wood siding everywhere. However, that seems well beyond our budget, especially since the house will also need a new kitchen and two new baths ASAP.

Looking for suggestions on how to work with the hand we've been dealt. Horizontal siding strikes us as wrong for the long front elevation, so we're leaning towards vertical. Many of the MCM's in the area have board and batten in greens, blues, and browns. Are there other profiles we should consider? Are we wrong that white seems totally inappropriate, and would not have been the original color? (At least it looks a bit better now that we've removed the yellow shutters!)

We are currently leaning towards a vinyl board and batten in sage green with the front door painted in an orange for a pop of color, but would appreciate hearing any and all ideas.

We are wanting to get some contractors in to look at the project, but we want to have a better sense of the direction we want to take the design before we do. Thanks for any wisdom and opinions you have to share!

Current state of affairs with roof addition.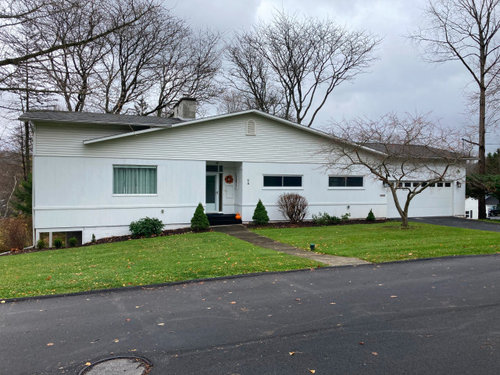 Architect's original elevation drawing: