Update...Cambria Southport counter with Cloe backsplash
Update #5

Finally got Cloe backsplash installed. I LOVE IT!!
I think I would have been perfectly fine just installing it below the cabinets, but hubby wanted to go to the ceiling (and I secretly did too....but it still would have looked great below the cabinets). There are only a couple spots where I wish they would have thrown in a couple more darker tiles, but overall I am pleased with how it turned out. After looking at a bazillion pictures, we decided to end it on the upper cabinet. Right or wrong, we decided we wanted a simple vertical line from the cabinet to counter.
I really really really wish we could have relocated the switch on the left of cabinet run. There was not enough wire to relocate once we figured out it wouldn't line up well. We went back and forth and back and forth about where to end the backsplash. While probably not the best solution, it is what it is. The switch in question operates our outside lights, can lights/pendant lights over the island. There were so many posts saying to have all kitchen lights on dimmers. So I was dead set on having the island lights on dimmers as well. Guess what? I have never dimmed the island lights since they've been installed lol!!! Sure wish I would have realized that a week ago when we could have combined those three switches into (1) triple rocker switch. Oh well. Live and learn I guess.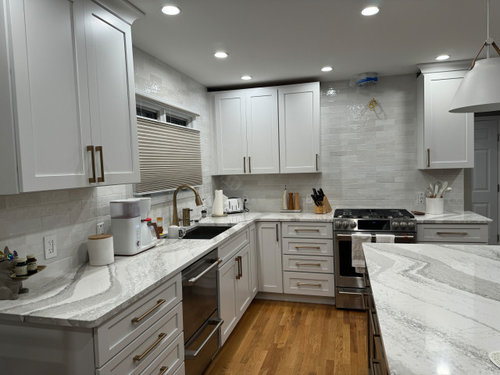 Update #4
Trying to figure out backsplash. Thinking Cloe because it has so much variation. Help lol :)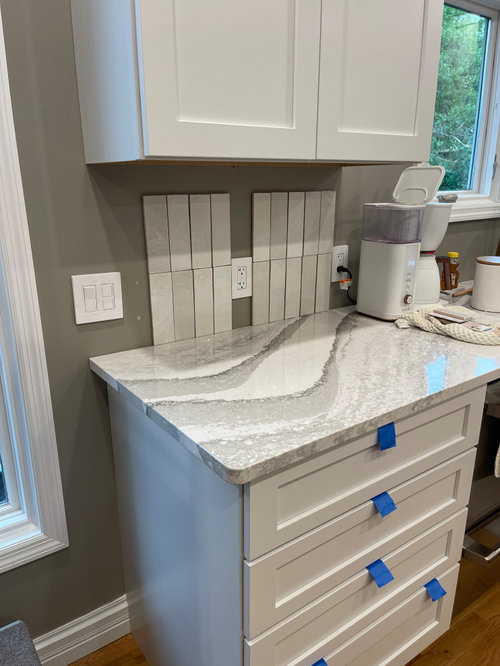 Update #3
Counters are installed and I LOVE them!!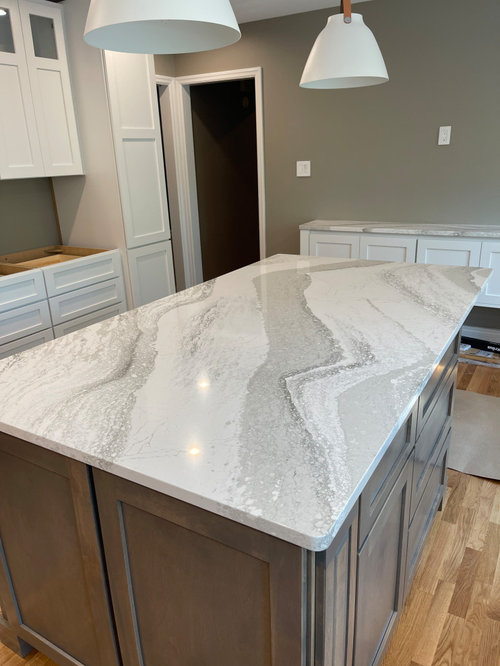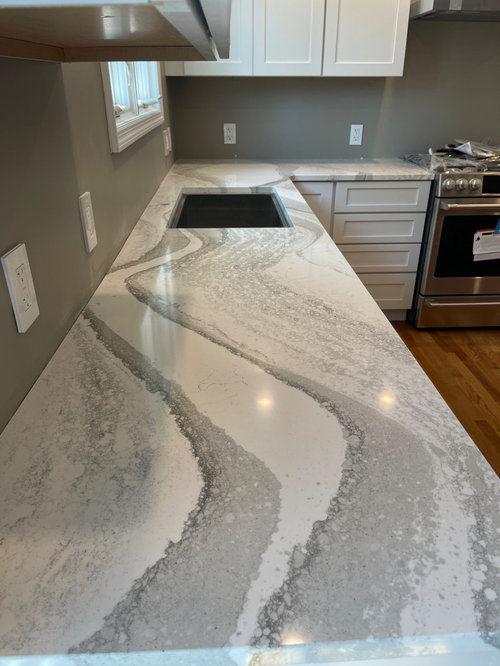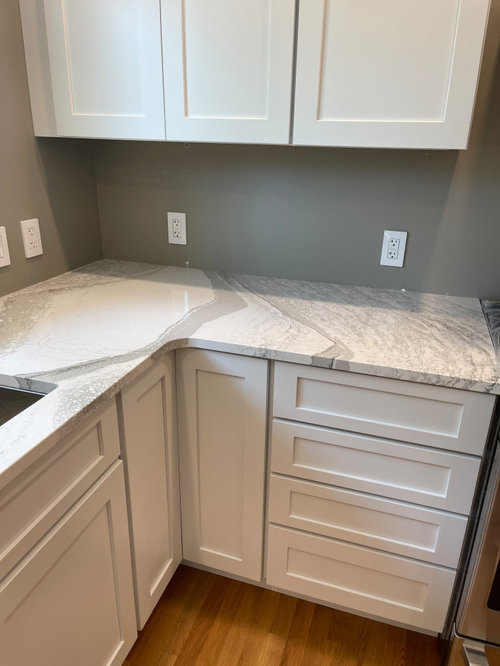 Update:
Decided on the brighter white cabinets. Now just trying to figure out flooring...
2nd Update:
Decided to install new hardwood to match our existing hardwood.
For the first time ever, my husband and I agreed on something right off the bat. We went to the Cambria showroom last week and fell in love with Southport. It is a new design so there aren't any installed pics out there yet. It is described as having warm gray veins with outlines of a darker taupe/chocolate brown. We will be ordering our kitchen cabinets soon and our options are a cooler white "white" or a warmer white "ivory". I think either could work, but the colors in our home are more on the warmer side, so I assumed we would go with ivory. But I'm a little worried it could end up being too yellow.
I was hoping to find someone who has used Southport and see what color cabinets they used.
Here is the pic of the slab in the showroom with the samples of the two white cabinets (ivory on the left and white on the right) with the color for the island (driftwood) and a floor tile that we decided against.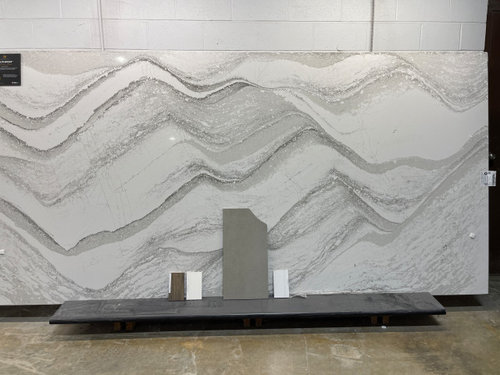 I took some pictures of the Southport sample with the cabinet samples in our bathroom that has 3500k LED lights, which is probably what we will do in our kitchen. The first pic shows the colors up close. The second pic shows both cabinet colors.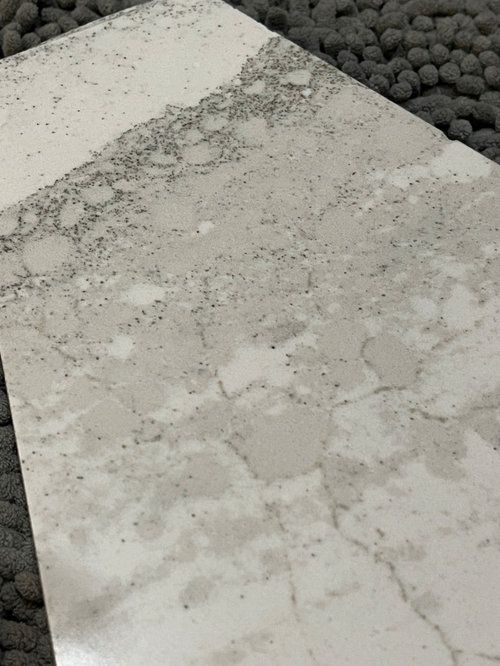 Here is pic with both cabinet colors. We are considering the taupe tile at the top (either 12x24 or 24x48) for the floor tile.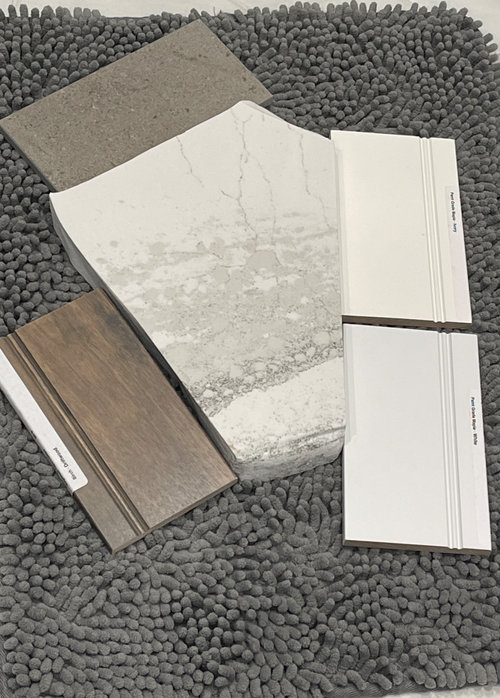 A couple other pics of Southport because I just love it!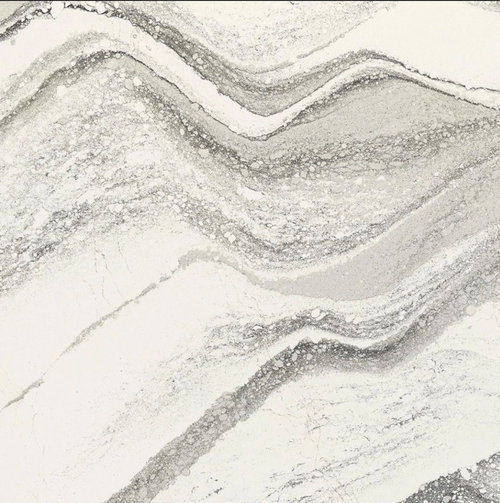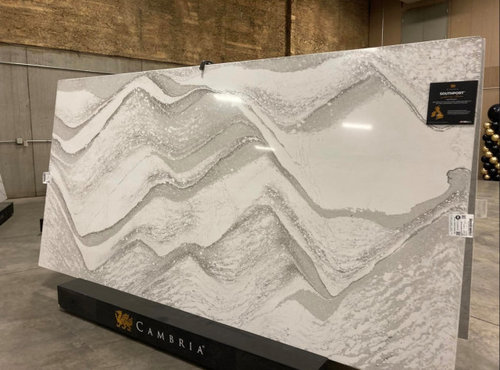 Anyone have any installed pics to share??
Supplier of High-End Design in Bathrooms, Tiles, Doors & Kitchens