Mystery Dijon tea rose saga...
I just wrote a long post about this rose, which then disappeared. Sigh. Starting over. Here are some photos of blooms on a rose which I have known was growing in a hedge (made of Japanese quince and some other stuff ) In our garden for 35 years. It blooms only once a year in the Spring, and produces 2-4 blooms. The blooms start out pink, and then gradually get bigger, and end up (IMO) a gorgeous buff color.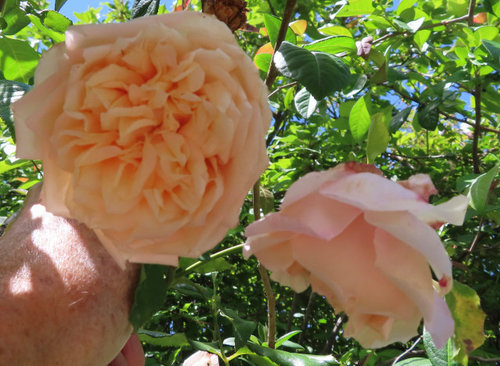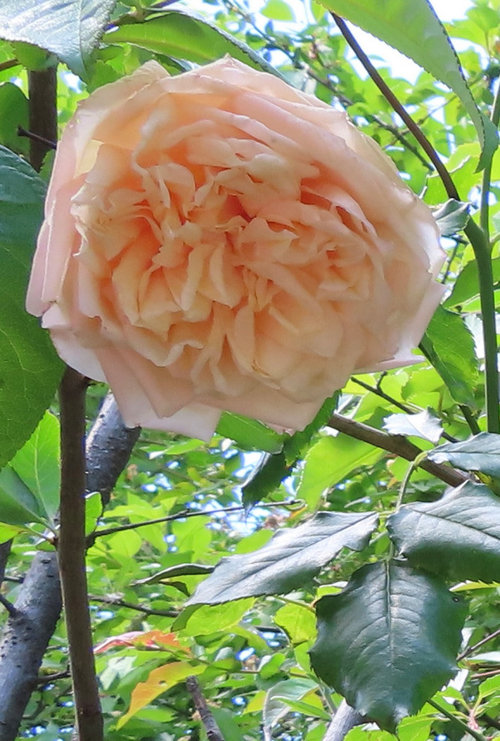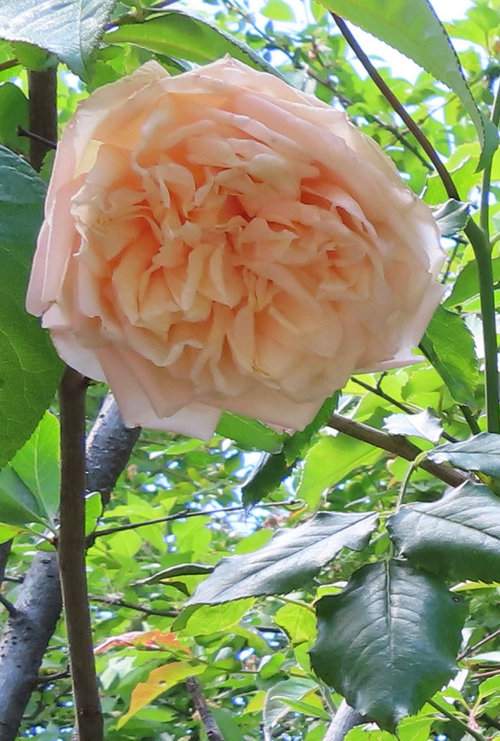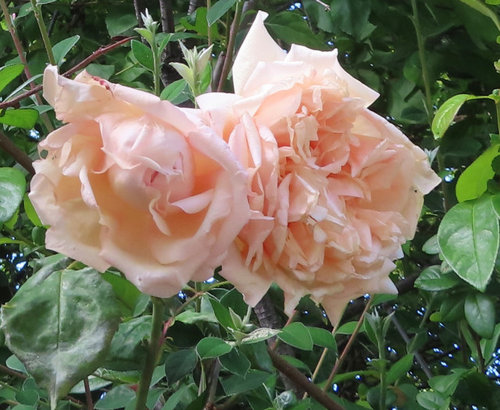 About 20 years ago I rooted two cuttings, and gave one to my SIL, as her ancestors planted this rose. I planted one in my garden next to two tea roses. Both plants grew, and repeat bloomed all Spring and Summer and Fall, but with much smaller leaves than the original, and lots of very small, pale pink blooms, which stayed that way. Here is a pic of my SILs plant: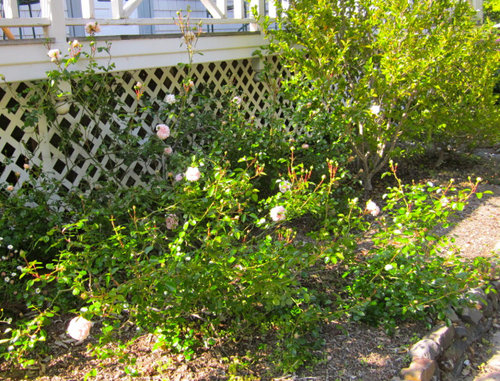 Recently I posted my dilemma on here - what was it? People who know things told me it was some sort of "Dijon tea" - not 'Gloire de Dijon', but probably a seeding of that rose, lots of which had evidently been introduced into commerce in the late 19th century. I moved my 20 yr old plant which was growing next to the tea roses (which I had trouble finding - the tea roses had eaten it). I had been so disappointed with what its blooms looked like that I had been ignoring it. I moved it into my new garden, and forgetting what caused the problem, into full sun. Last Spring it grew and bloomed profusely - you guessed it, with very small leaves and small, 100% pale pink blooms which never changed. (What is the definition of insanity?). So, we dug the poor thing up AGAIN, and moved it, still in the deer protected garden, to where it would get full morning sun, but afternoon medium sort of shade from trees. It sulked, and 100% of its tiny new growth died immediately. It's been like that for months, with no action whatever. Last week (I go and look at it maybe 3-5 times a week), I saw some growth buds which looked like they might not be dead. Today I just went out and looked at it, and it has tiny new growth sprouting in 7 different places! I am so happy. I won't know what it is going to do next for months and months, but I am trying to find a balance, a "sweet spot", of how much sun/shade it needs to bloom for 6-9 months, with larger leaves and the blooms which I, at least, think are gorgeous. I will let you know what happens. Stay tuned....

Jackie