Small bathroom layout question
I've been posting a lot here lately - thanks for all your wisdom! This is the first time I've ever done a major reno and I want to make sure we get it right.
After having initial plans made, during demo our contractor found a big original closet behind what was the shower (I posted about this earlier but have organized my thoughts more thoroughly here after thinking all day). After brainstorming, we have a couple of options if we'd like to try to utilize that space - each has it's own pros and cons, and I'm having trouble deciding what would be best.
Option 1: Stay with the original plan - in this case, we would have a 60", single sink vanity for storage, not move the toilet or tub location, and probably build some open shelves into the end of the tub.
Pros: Cost - it was our original plan, we're not moving any more plumbing, we get to use our vanity and medicine cabinet that were already ordered.
Cons: We miss out on the opportunity to get a bit more space, the layout was kind of the best we could do with what we had but it did feel like it would still feel cramped and the door opens right into the toilet.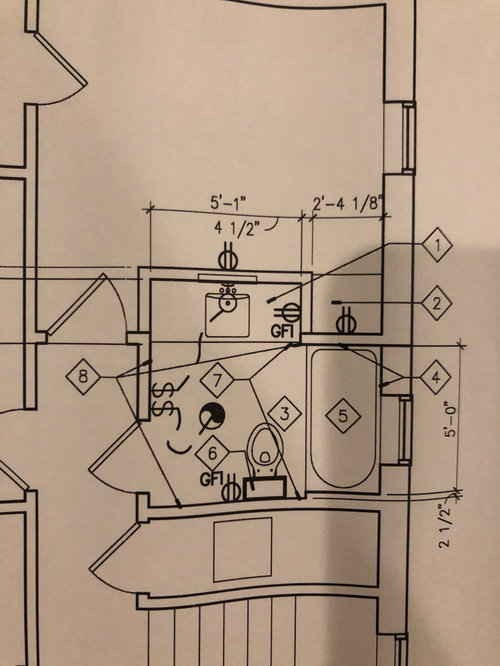 Option 2: Put the toilet in the space where the old closet is. In this case, we would have to get another vanity - the door opens into the hall but that wall run is only 60". In order not to walk into the vanity edge we'd probably have to go with a 36" vanity, and I'd probably go with a pedestal or console sink so it doesn't feel too cramped.
Pros: Toilet is out of sight, we have closed floor to ceiling linen storage (there is currently nowhere to store linens and it's a 1909 house, so the closets in the bedrooms are all pretty small), the tub is not in front of the window. Another aesthetic pro is that we're going for a classic period look as much as we can and a pedestal/console sink would fit in design-wise (not 100% sure if that aesthetic difference is worth losing the vanity counter space though...)
Cons: Potential cost - they will have to frame a floor into an old maid staircase and also deal with supply lines that are running to the furnace (7 in the below picture and the reason we can't expand into that full space). Also the loss of a bigger vanity/vanity surface for a much smaller sink.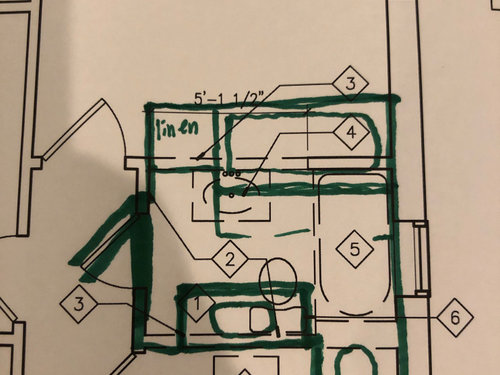 Option 3: Leave the linen closet as we found it, and put the toilet in the nook where we would build a linen closet in option 2. It might also be possible to flip the toilet and tub in this picture - I just put them closest to their original plumbing. In that case I'm not sure which would be preferable - probably toilet nearest to the window wall?
Pros: Probably cheaper than option 2, as we won't have to frame or deal with the furnace lines. Toilet is still not the first thing you see when you walk into the room which is nice.
Cons: I'm not 100% sure there is enough space to leave the 30" required for the toilet code in this option, since we have to build a wall with the plumbing. I also don't know if the toilet will just feel like it's in a dark cave nook. The linen closet in this option would also be less usable - it is the upper half of the wall and incredibly deep, but as a result it's hard to access all the space there. We'd need roll out shelves and a stool and it still might feel too deep. Also again the loss of a bigger vanity space.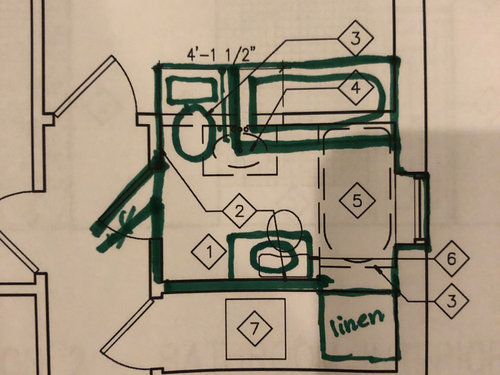 Budget: We are maybe willing to spend an extra $5-6K for this modification, which is the ballpark our contractor gave us today. Keeping the cost as low as possible would be nice, but this is the only bathroom in a house with 5 people. We're already spending so much to renovate it that it seems worth it to spend a little more if necessary to make it as useful of a space as we can with its size limitations.

Thank you everyone for your thoughts!

Virginia's Award Winning One Stop Kitchen & Bath Remodeling Resource