They did my roof today, starting at 7:20 am
I set my alarm to get up at 7:30 just in case the workers came today, so I could let the dogs out before they came. They usually come at 8:00. They hadn't come for a few days because of all the rain. The roofing material was delivered yesterday. I let the dogs out and they were already here!! I let the dogs back in, put ear plugs in and tried to sleep. I dozed and woke multiple times, finally getting up about 12:30 because of a pounding headache. I do now have a beautiful roof. They still have to redo the gutters. Ignore the garbage bins, they were moved off the sidewalk by the workers who moved them from the side of the house because they blocked the way to the dumpster they are using.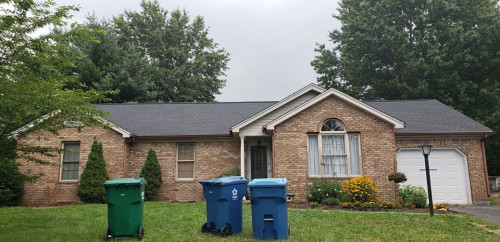 We are waiting for the siding to come in for them to finish the porch in back. Then I'll have new windows and doors put in. I'll be glad when it's all done. I do like it better than the old brown roof.