How Essential are Essential Businesses?
Whats truly essential? Groceries? Sure.We gotta eat. Drug stores? Everyone needs their medications. Hardware stores? Yeah, if your hot water heater goes out, you sure need a new one!

So why are grocery stores full of people buying Easter candy and beer? Drug stores are selling a huge amount of makeup and hair color. Hardware stores are breaking sales records by triple digits for paint and home decor products.

All with bored people standing and shopping way too close.

Also if these low paid jobs are so essential, why aren't they higher paid? $12 an hour vs 7 M. I don't see any essential business CEO's like Marvin Ellison coming out of their at home conference calls in their jammies to stand there for 10 hours having customer spittle sprayed their way to ring up the 17 pair of blinds and 3 gallons of paint that Karen and Chad just had to have to fight the stir crazy!

Don't even get me started that Honeland Security has designated "wood product manufacturing" an essential business. Rest assured that Jim and Paco are making your new custom cabinets!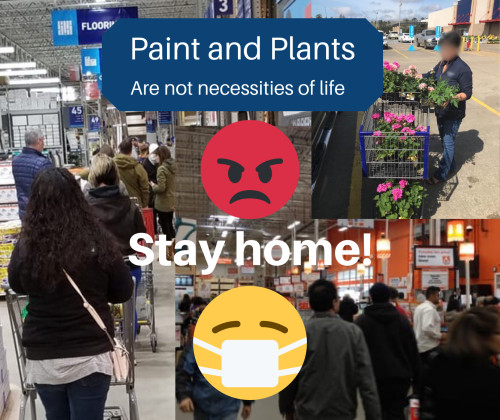 Stolen from a friend, and composed of realworld idiots.