Nationwide Unemployment Claims
The number of people filing for unemployment benefits in the United States jumped by 70,000 last week, a first sign of the economic repercussions of the coronavirus pandemic. Across the country, 281,000 people filed for unemployment benefits between March 8 and 14, according to numbers released by the Department of Labor on Thursday.
But these numbers are lagging behind what's really happening.
Since March 14, several states have implemented policies that closed restaurants and bars to dine-in customers. The CDC recommended that gatherings of 50 or more people were suspended for the next eight weeks. Even hair salons and gyms have been shuttered. Websites in various states have been crashing since as more and more newly jobless people are trying to apply for unemployment benefits. We've never had a complete shutdown of several parts of the economy before.
The chart below ... shows unemployment claims over time. It not only takes into account the 281,000 new claims the federal government reported Thursday, but also the claims filed in 17 states after measures were put into place this week to shutter businesses.
Between Monday and Wednesday, nearly 700,000 people filed a claim.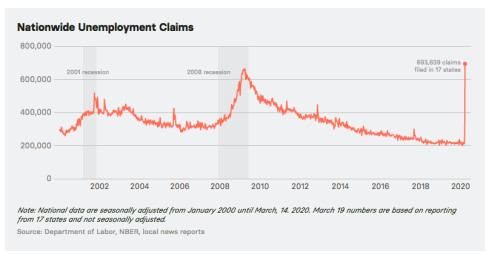 Source: Department of Labor, NBER, local news reports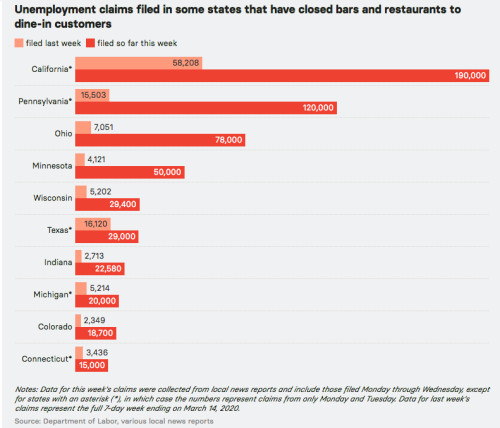 https://www.buzzfeednews.com/article/lamvo/coronavirus-update-charts-unemployment-claims-laid-off-jobs