NEW TO KITCHENS Test
New to Kitchens? Read Me First!
October 5, 2018
Welcome!
.
If you are new to Houzz's Kitchens Forum (formerly, GardenWeb's Kitchens Forum), you may find the following information and links to various topics* helpful as you begin your Kitchen journey. These topics will help you navigate the world of kitchen remodeling and, in the process, introduce you to ideas that you may not have thought of or seriously considered.
We begin by helping you come up with a "Mission Statement" or "Goal" for your future kitchen and continue through the planning, implementation, and, finally, the unveiling of your final kitchen and the enjoyment of working in a kitchen that YOU helped come to pass!
For inspiration, the Finished Kitchens Blog (FKB) has pictures and information about many Kitchens Forum members' finished kitchens from a few years ago. You can search for a particular member's kitchen by name or search for kitchens by category (e.g., cabinets, countertops, kitchen basics, special features, etc.) using the "Find-A-Kitchen" link at the top of any FKB page. Additionally, there are also links to "Coming Soon Kitchens" and "In-Progress Kitchens" for those members' kitchens that have not yet been added to the FKB. These links are also in the "Find-A-Kitchen" link. (Note that the kitchens in the FKB are several years old. The FKB is not currently being updated with new kitchens. Also note that the FKB was intended to display kitchens that were designed and worked on via the Kitchens Forum; it is not a showcase for just any kitchen remodel.)
The Appliances Forum is very useful when you have questions specific to appliances related to your Kitchen. (There's a separate Laundry Room forum for laundry room and appliance questions as well.)
An additional resource is our [Acronyms[(https://www.houzz.com/discussions/faq-thread-acronyms-abbreviations-and-definitions-dsvw-vd~5364389) thread that lists the acronyms and abbreviations commonly used on this Forum.
.
.
One very important note…
When asking questions (e.g., asking for layout help), please keep in mind that everyone here is trying to help, not criticize maliciously. Some of us can be blunt, but no one is out to deliberately insult or hurt anyone. When your kitchen is done, we want you to have a kitchen that functions wonderfully well and looks nice overall -- but the process will take time and may entail comments that many times you won't want to hear (e.g., when a layout is dysfunctional). We strongly recommend you "keep listening" to what others have to say but, in the end, you don't have to take any advice given here. It's your kitchen and you are the one who will make the final decisions!
.
Again, welcome and good luck! The journey is wild, sometimes bumpy, but fun and very rewarding in the end!
++++++++++ IMPORTANT NOTE ++++++++++
.
Before we start, it has been noted recently that getting to some of the functions may vary, depending on what type of device you are using. The information and "how tos" in this FAQ are based on using a desktop or laptop.
One such example is pagination -- When using a desktop/laptop, the forum's thread list is paginated. However, there is no pagination when using a mobile device.
If there are places that I know vary for a phone or tablet, I will add the instructions for those alternate devices, but for the most part, these "how tos" will be from the point of view of a "desktop site".
Also, not only do I primarily use a desktop or laptop, but I also primarily use Google Chrome for my browser with an ad blocker. (I recently switched to uBlock Origin from AdBlock Plus – the jury is still out as to which one I prefer.)
2 Likes Save October 5, 2018 at 2:13AM Buehl
++++++++++ STARTING YOUR REMODEL ++++++++++
.
To start off the kitchen remodel process itself, take the Sweeby Test. This "test" helps you define your "vision" and goals for your kitchen.
While you are determining your "vision", also begin thinking about budget and layout.
When you have determined your "vision", it's time to start designing your kitchen. Keep in mind that this step can take quite a while. In fact, planning should take the longest of all the phases. Planning it right in the beginning will save you time, money, and effort later - including minimizing the dreaded "change orders"!
Note: If this is a new build or an addition, then the Kitchen design step should occur during the design of the overall home/addition - you don't want to force yourself to work around finalized windows, walls, doors/doorways, and traffic patterns. Waiting until "later" means you will be forced to work with constraints that will limit what you can do and you could end up with a "make do" Kitchen b/c design started too late in the process.
.
There are a set of threads that form the Kitchen Design FAQs that will be useful for understanding kitchen design as well as asking for help. Read these threads to get not only an idea of the best practice design principles/guidelines, but also to understand the comments you will receive when you post your layout for comments. (The Kitchen Design FAQ threads will be posted at the end of this post.)
When you have a preliminary layout, post it here for critiquing. If you have no layout and don't know where to start, that's OK! We can help you start. Simply post a blank slate of the space.
Whether a new build or a remodel, read the "layout help" FAQ thread -- it discusses what information we need to help you get the best layout for you, your family, and your space.
.
Kitchen Design Best Practice/Guidelines FAQ Threads:
FAQ: Kitchen Work Zones, What Are They?
FAQ: Aisle Widths, Walkways, Seating Overhangs, Work/Landing Space etc
FAQ: How Do I Plan For Storage?
.
Asking for layout help:
FAQ: How Do I Ask For Layout Help & What Information Should I Include?
.
Humorous discussion of workflow and other layout topics:
Looking for layout help? Memorize this first.
.
1 Like Save October 5, 2018 at 2:17AM Buehl
++++++++++ DESIGN CONSIDERATIONS ++++++++++
.
This thread discusses and illustrates several considerations needed when designing Kitchen components. E.g., why refrigerators need space between them and deep walls, why two seats cannot share the same leg/overhang space on an island with corner seating, etc.
Kitchen Design & Layout Considerations
1 Like Save October 5, 2018 at 3:56AM Buehl
++++++++++ IKEA HACKS ++++++++++
.
Looking for IKEA hacks and how to implement them? Please see the following thread for a repository of IKEA hacks here on GW:
IKEA Hacks - Compilation of IKEA Hacks
Like Save October 5, 2018 at 4:09AM Buehl
++++++++++ STONE INFORMATION ++++++++++
.
Stone Information and Advice (& Checklists)
How do I seal my natural stone countertops?
1 Like Save October 5, 2018 at 4:11AM Buehl
++++++++++ PREPARING FOR & SURVIVING THE REMODEL ++++++++++
.
How do I prepare for demolition and remodeling?
.
How do I set up a temporary kitchen?
Like Save October 5, 2018 at 4:11AM Buehl
++++++++++ MISCELLANEOUS OTHER ITEMS ++++++++++
.
How do I get more responses to my posts?
.
Other Items of Interest
Like Save October 5, 2018 at 4:11AM Buehl
++++++++++ KITCHEN FORUM BASICS ++++++++++
The next series of posts covers basic functionality for using the Kitchens Forum. Topics include:
How the Forum is organized
How to Start a New Thread
The Thread List
Searching the Forum
Finding Threads You Started
Posting Pictures
Posting Links
Like Save October 5, 2018 at 4:48AM Buehl
How are the home page and the Forum organized?
At the top of the page, is the Search box - see the "Searching" post below for more information.

Below the Search box is a series of links to Houzz sites (Photos, Shop, Find Pros, etc.) - these are not the former GardenWeb Home Forums.
Next is a rather large couple of lines that only say "Hi" to you and tell you that you can get help, etc.
Below that is the thread list -- see the "Thread List" post below for more information
Below the thread list is the general box of Houzz links for things like "Contact Us", etc.
At the bottom of every pa
Starting a New Thread
Next is the block you use to start a new thread. This block will guide you through the process for starting a new thread.
The only box showing at first is the Subject box (Start a discussion…)

When you place your cursor in the Subject/Start a discussion box, the space expands to include not just the Subject box, but also the text box and the Close (a.k.a., Cancel) and Next buttons.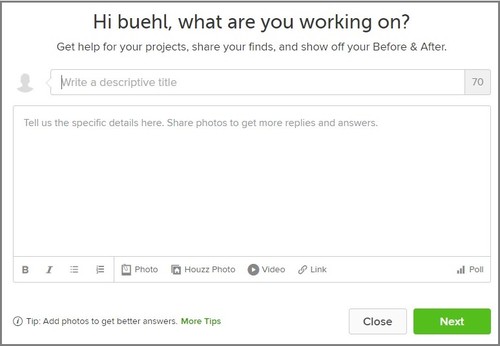 Enter your subject. It must contain at least 15 but no more than 70 characters. While this means you must be brief, make it descriptive and informative. Do not say something like "Help!" or "Need input!" without telling us what you need help with or input on. If it's urgent - as in you need help within the next couple of hours – begin it with "Urgent!" Don't overuse it, though, as people will start ignoring it. (The "calling wolf syndrome"!)
Enter your question and related information in the text box below the Subject box. The character limit for this box 21,800 chars, so don't skimp in your description (if needed, you can always continue in the first "follow-up" post!)
Please format it so it's readable -- that includes breaking into paragraphs and formatting, as appropriate. Run-on paragraphs make it difficult to decipher what you are asking and, often, people will give up and move on to another thread.
Formatting...Please, also use formatting to help make your posts (and comments) readable. Beneath the Message Box are icons for limited formatting: bold, italics, bulleted list, and numbered list. Note that the lists are now limited to one level since the Houzz takeover. You can also add photos, videos, and links. Formatting available:
-- Bold
-- Italics
-- Lists...bullets and numbers are both available.
If you need a multi-level list, you can sort of create one by pressing the <Shift> and <Enter> keys together. Then, enter a something as a "bullet". In this case, I used "--".
Text will still wrap as if it's the top bullet level, but at least you will be able to see where each new line begins b/c of the "bullet" you entered.
Note: This "pseudo multi-level" does not always work in the original post of a thread, but it always works in the follow-up posts.
-- Extra blank lines...Houzz does not let you put extra lines for better separation of text. Even if you put them in, it removes the extras lines when you submit your post. However, if you need an extra blank line, simply put a period "." on the line and it will keep that line b/c there's text.
Note: You will only be able to edit the original/starting post of a thread for approximately one hour after it has been submitted - so please proofread immediately!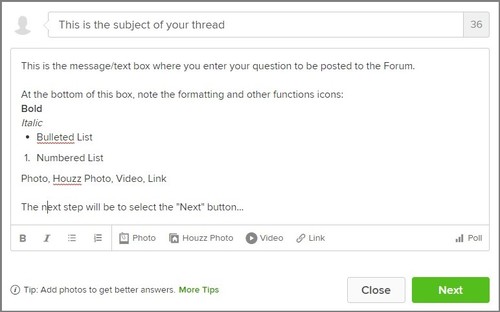 There is a limit to the number of pictures you can include in each post -- I think it's ten for Kitchens but four for other areas of Houzz.
Once you complete your message and are ready to submit, select the "Next" button.

You will now be asked to select at least 1 but no more than 3 Forums to post the thread to.
Please pick just ONE forum -- the most appropriate forum. The option to pick 3 clutters other forums with ridiculous numbers of irrelevant posts. If it's a Kitchen-specific question (e.g., design of the kitchen, cabinet or counter questions, etc.), only post it in "Kitchens", not "Design Dilemma" or "Building a Home".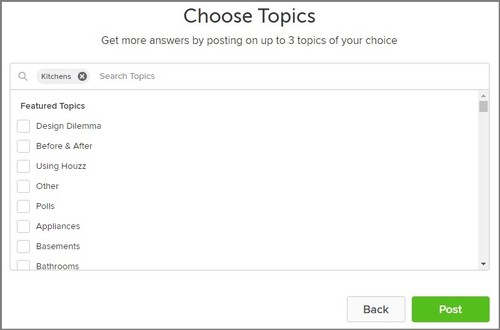 Once you have selected your forum (topic), select the "Post" button and your new thread will be posted to the forum you selected.
If you need to add additional information and you cannot edit the original post or your post has hit the maximum number of characters, add your additional comments in the "Comments" box.
.
Editing the original post of a new thread:
You will only be able to edit the original/starting post and subject of a thread for approximately one hour after it has been submitted -- so please proofread immediately!
To edit, select the "Edit" button at the bottom of the text box. If the "Edit" button is not there, then it's too late to edit the subject and original post.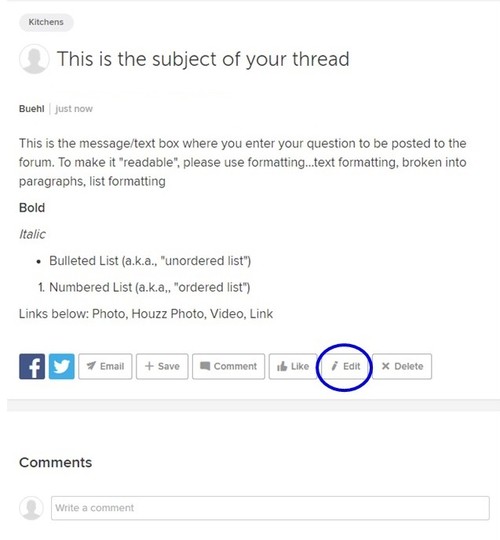 The editing page appears. Note that you will be put through the same process as when you originally created the thread (create thread --> pick forum(s) --> submit)
The top of the page will tell you how many minutes are left for you to edit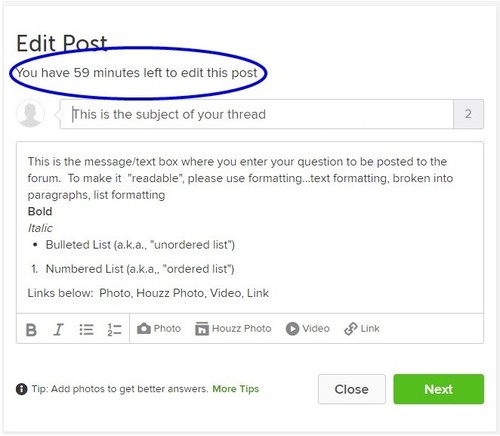 Like Save October 5, 2018 at 4:52AM Buehl
Moving on
Following the "Start a Discussion" box, is the name of the forum you are in, in this case, "Kitchen Discussions"
Then, there is a blurb about the forum.
Next, is a list of "Related Topics", which lists several other forums that might be of interest to you. For example, Appliances, Plumbing, etc.
Below the related topics is a tabbed menu that will allow you to sort the threads in one of four ways:
-- Latest – sorts the threads in descending date order based on the last post to it
-- Featured – sorts by threads that for some reason Houzz wants to feature them (probably the least useful sort)
-- Popular – sorts the threads based on how many comments have been posted to the thread
-- Unanswered – filters the list so only the unanswered threads are displayed
-- IMO, the Latest and Unanswered are the most useful. I often go to the Unanswered to see who needs help but no one has stepped up to help yet.


Like Save October 5, 2018 at 9:44AM Buehl
Now, the Thread List!
The Kitchens Forum home page lists 30 thread titles, initially in order of the last time someone posted to the thread (well, mostly, sometimes the list is out of order, but not often.)
[Note: Pagination only applies to desktop/laptop/full-site. Cell phones, etc., do not have the option of paging -- it's one (very long) continual scroll.]
The first page displays the last 2 hours or so of activity - depending on how busy the Forum is.
Below the thread list are page numbers -- only 9 pages are displayed at a time, but by using << (previous) and >> (next) links, you can scroll through as many pages as you like. The entire list is available.
Tip: If you go to the URL box and type in a number, you can jump to the thread that's that # in the list. E.g., http://www.gardenweb.com/discussions/kitchbath/p/150 will take you to the 150th thread in the list, which happens to be the end of page 5/the beginning of page 6 -- you go to page 6.]
When a response is posted to a thread, that thread jumps to the top of the list if you are using the default view of "Latest Activity". On that topic....
Please do not bump an old thread! It is unlikely the person who posted a thread long ago still needs help. All you are doing is bumping an old thread to the top of the list and knocking someone off the first page who needs help TODAY. If you do bump an old thread, you may not get a response as most of us now ignore old threads (see below as to why.)
Yes, search the Forum for answers to questions that you have before creating a new thread, but if you cannot find the answers, start your own thread asking your question(s). Many of us have started to ignore old threads when they're bumped up -- so your posting of additional questions will likely be ignored. You might mention what you've gleaned (if anything) from old threads, but it's not necessary.
Note that since Houzz took over, we have found that many such bumps are from "pros" trolling for work or trying to draw attention to themselves -- or they're spammers trying to drive business to their site. This is another reason many of us now ignore old threads.
[Another reason for not bumping a very old thread is that by doing so, you may be bringing outdated information to the forefront; so all in all, it's better to not bump an old thread.]
Like Save October 5, 2018 at 9:57AM Buehl

++++++++++ SEARCHING ++++++++++
Continued in comment section ...